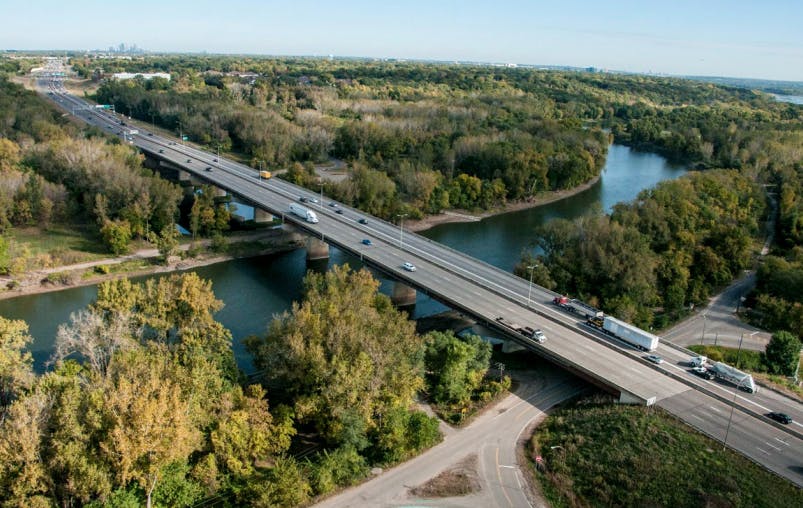 Work begins this week on a three-year, $127 million project to replace the Interstate 35W Minnesota River Bridge south of Minneapolis.
Lane closures that began this week are only the beginning for drivers and pedestrians. MnDOT says it will do the project in phases, with three lanes open each way for the 120,000 or so drivers that use this bridge every day. At night, however, crews may shut down lanes so that only one is open at times, MnDOT says.
MnDOT is in partnership with Dakota County, Hennepin County, the City of Bloomington and the City of Burnsville to replace the bridge and pavement on I-35W between Cliff Road in Burnsville and the 106th Street interchange in Bloomington.
Ames Construction, based in Burnsville, Minnesota, was awarded the prime contract, says Scott Pedersen of MnDOT.
The improvements will raise I-35W out of the floodplain and improve pedestrian access across the river. It includes reconstructing the bridge over the river and nearby 106th Street, replacing pavement from Cliff Road and 106th Street, reconstruction of south ramps, building an auxiliary/truck lane and improved signing, lighting and drainage.
It also includes construction of a trail between Black Dog Road and 106th Street, as well as retaining walls and a noise wall.
The project is one of the bigger ongoing projects for MnDOT. The 2018 MnDOT program encompasses 253 new and ongoing projects with a total price tag of about $1.1 billion.