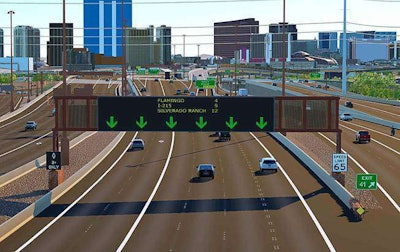 The last major construction phase of the nearly $1 billion Project Neon, also known as the Main Event, reached the halfway point in early July 2018, according to the Las Vegas Sun.
On July 6, the Nevada Department of Transportation (NDOT) reports that the 4-mile-long widening of Interstate 15 between the U.S. 95 interchange and Sahara Ave. was 73 percent complete with a projected completion date in the summer of 2019.
"Reaching the halfway point on the most impactful phase of Project Neon is a major milestone," said Dale Keller, NDOT project manager, according to the news agency. "We wouldn't be where we are without the efforts of our contractor and the support of the community."
The first half of Project Neon included the demolition of nine bridges, while construction began on 12 new bridges, as well as the opening of the new Martin Luther King Boulevard/Pinto Lane on-ramp to southbound I-15 and the new southbound I-15 off-ramp to Charleston Boulevard.