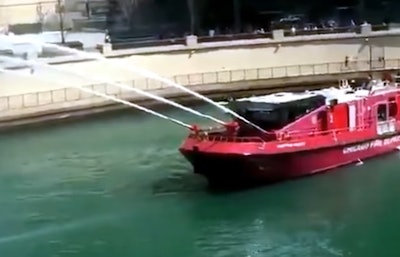 The heat wave in the northern United States caused the DuSable Bridge in Chicago to get so hot during the week of July 4th that it stopped working. Popular Science reports that the joints on the 98-year-old steel bridge swelled and stuck in place, making the bridge unable to open for boats, so it was closed down for 30 minutes while firefighters hosed it down with cold water.
Luis Benitez, chief bridge engineer for the Chicago Department of Transportation, told the news agency that the surface temperature of the bridge reached more than 100 degrees that week. The joints — finger-like parts that interlock with a bit of space between them — expanded and began to rub together.
"The temperature was getting too hot, and the bridge isn't just expanding longitudinally, it was expanding sideways," Benitez told the news agency. "Those two pieces of metal started rubbing together causing friction. Everything is so finely tuned, if you tried to force them apart, those joints can come loose or the expansion could get damaged."
The YouTube video below shows a fire boat hosing down the bridge.