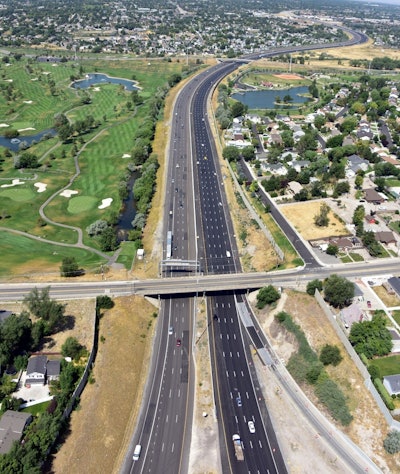 Staker Parson Materials & Construction won the Associated General Contractors' (AGC) 2018 Highway Project of the Year for its Interstate 215 Renewed: 300 East to State Route-201 project in Salt Lake County, Utah.
The Ralph L. Wadsworth joint venture project is owned by the Utah Department of Transportation (UDOT).
"This project has exceeded my expectations on how well we partnered to deliver a quality project that meets the transportation needs of the western Wasatch Front," said UDOT Project Manager Oanh Le-Spradlin in a press release. "We kept traffic moving during and after construction, and stayed under budget."
This was UDOT's largest design-bid-build project ever, and included resurfacing Interstate 215 between 300 East and Redwood Road, replacing existing concrete between 4700 south and State Route 201, and adding auxiliary lanes and on/off ramps, as well as the reconstruction of two bridges.
Traffic coordination was a key part of the success of the project, so the companies planned the phasing to allow all four lanes to be open in both directions for the majority of heavy-traffic times.
"This project is a great example of what true partnership represents; partnership between joint venture contractors, sub-contractors, and a great partnership with the owner UDOT," said Travis Canfield, Staker Parson Companies South Wasatch vice president in the press release.