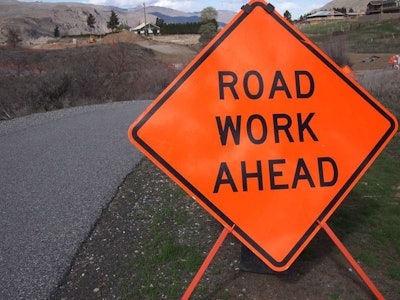 Utah's "Technology Corridor," a portion of Interstate 15, is No. 1 on the Utah Department of Transportation's (UDOT) Top 10 list of construction projects for 2018, Deseret News reports. The $450 million project to widen the freeway to six lanes in both directions between state Route 92 and Main Street in Lehi began on Monday, April 2, 2018, and is key to the development of Utah's Silicon Slopes technology corridor.
UDOT spokesman John Gleason said steps will be taken to ease the impact on drivers during the project, which is expected to be complete in late 2020. "We recognize with construction activities comes inconveniences," Gleason told the news agency, speaking of all UDOT projects. "We try to make it as easy to navigate as possible and keep traffic moving as much as possible to minimize some of those headaches."
The other nine projects on the Top 10 list, in order of their rankings, include the following:
A $180 million project to add a new southbound lane on I-15 from 2100 South to 12300 South, redesigning some of the southbound ramps at the 1-15 and I-215 interchange, and widening 7200 South to three lanes from I-15 to Bingham Junction Blvd. in Midvale. Work will begin this spring and is expected to be completed in late 2019.
A $40 million project to reconstruct I-215 in Davis County from the I-15 interchange in North Salt Lake to 2100 North and build a new diverging diamond interchange at Redwood Road and I-215. The project began in February 2018 and will continue through the end of the year.
A $30 million project to replace three bridges on I-80 in Tooele County near the state Route 36 interchange: eastbound and westbound I-80 over the railroad tracks and the S.R. 36 ramp bridge. The work will begin in late spring and should be complete in the summer of 2019.
A $51 million project to widen Bluff Street in St. George from 100 South to Sunset Blvd. by adding a lane in each direction and turn lanes at several intersections. The yearlong project began in January 2018.
A $30 million project to add a new westbound lane for trucks on I-80 from Jeremy Ranch to Parleys Summit, and a new wildlife crossing at the summit, and repave I-80 from Lambs Canyon to Kimball Junction. Work started April 2, 2018, and is expected to be finished by the end of the year.
A $41 million project to extend Mountain View Corridor in Utah County from Redwood Road and the 2100 North intersection to state Route 73. The project is set to start this spring and be completed next year.
A $201 million project to convert four intersections on Bangerter Highway into freeway-style interchanges. The project is currently underway and due to be completed by the end of the year.
A $19 million project to reconstruct state Route 9, the gateway to Zion National Park, through Springdale. The old pavement is being removed and replaced with new asphalt, and pedestrian and bike improvements are being made. The work should be done before the peak visitor season begins in late April 2018.
A $52 million project to finish widening and reconstructing state Route 108 in Syracuse from Antelope Drive to 300 North in Davis County. Work started a year ago and should be completed this fall.
There are a total of 188 UDOT construction projects scheduled this year, adding up to $1.46 billion.