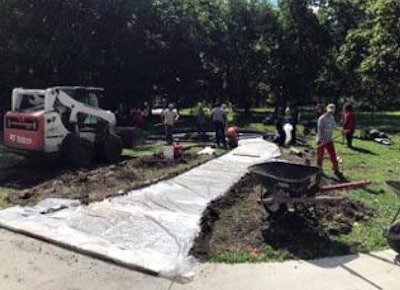 Ozinga partnered with the Chicago Public Art Group and the Forest Preserve District of Cook County (FPDCC) to change foundation and walkway slabs from regular concrete to Filtercrete pervious concrete. Ozinga trained Urban Habitat Chicago (UHC) students to be pervious concrete technicians, which required students to pass a test with a 70 percent grade or above, as well as participate in a hands-on pervious concrete placement project.
The students who passed both received a certificate and laminated wallet card showing that they are an Ozinga Filtercrete Certified Installer.
"The training they get teaches the basics of pervious concrete installation and gives them skills required to be hired by one of our customers for an NRMCA Pervious Certified crew," says Ozinga Vice President of Sustainability and Compliance Brian Lutey, according to the Illinois Association of Aggregate Producers' Update newsletter. "It's something for their resume and pride in having a specialized skill after participating in successful pervious projects."
For this project, Ozinga provided 12 cubic yards of Filtercrete made with materials donated by Vulcan Materials. Ozinga and UHC managed the installation while the UHC students and volunteers handled the placing and finishing tasks.
"The most exciting part of the project was watching the students take control of the jobsite, find the best roles for each individual, and work together to ensure a successful Filtercrete placement," says Ozinga Sustainability and Compliance Associate Nathan Onchuck. "Their pride in being a part of an art project that will be on display for all who visit the FPDCC was evident in the quality of their work and their positive attitudes throughout the day."