At the recent Intermat trade show in Paris, Klemman showcased three mobile crushing and screening plants and announced several more:
The "mobile jaw crusher" Mobicat MC 120 Z Pro
The mobile impact crushers Mobirex MR 110 Z EVO2 and the MR 130 EVO2
Mobile classifying screens: Double-deck Mobiscreen MS 702 EVO and MS 952 EVO; and the triple-deck MS 703 EVO and MS 953 EVO
Jaw crusher MC 120 Z Pro for quarries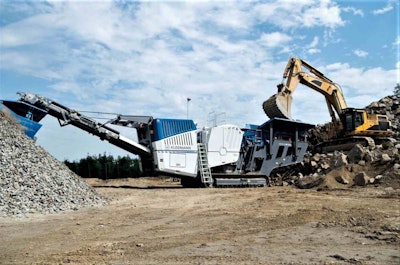 This high-performance plant achieves an hourly output of up to 650 tons, thanks to the powerful jaw crusher.
The Continuous Feed System (CFS) guarantees the best possible crusher feed, Kleeman says. It regulates the material feed depending on the material flow. At the same time, it's plenty economical with its diesel-electric drive, and it can also be operated with an optional external power supply.
To achieve effective prescreening of fines, the MC 120 Z PRO is equipped with an integrated double-deck prescreen with an extra large screening area.
Highly versatile classifying screens

As with other plants in the EVO series, the new MS 702 EVO, MS 952 EVO, MS 703 EVO and MS 953 EVO are characterized by compact dimension, good transportability and flexibility.
The exhibited double-deck classifying screen MS 952 EVO is suitable for natural stone and recycling application in changing locations.
The highly efficient plant can process up to 500 tons of material an hour on a screening area of approx. 9.5 m² in the upper deck. As with all EVO plants from Kleemann, all components are easily accessible for convenient maintenance.
The screen media change in the lower deck, for example, is comparatively simple due to the lowerable fine grain discharge conveyor.
Flexible impact crusher Mobirex MR 110 Z EVO2 and MR 130 EVO2

Designed both for recycling and natural stone processing, these machines prescreen and level material with the double-deck prescreen. Output reaches up to 350 tons an hour.
The optional secondary screening unit has a large screening area for a thoroughly classified final product.
Mobirex plants are equipped with the award-winning Lock & Turn system, which guarantees safe maintenance. Access to the plant is only possible by using a multi-stage safety system, and the rotor can be locked in any position to change the rotor ledges.
Spective: a new control concept
With Spective Kleemann introduces its new, intuitively operated control concept that uses clear symbols, which make all plant functions identifiable at a glance.
The 12-inch touch panel only displays information that is relevant to machine operation. The operator is guided through the control system in a similar manner to a smart phone, which considerably reduces the number of operating errors.
In addition, data on machine operation can be called up in the plant cockpit. S[pctive will be initially available for the crushing plants in the Pro series and the latest impact crusher in the Mobirex MR EVO2 series.