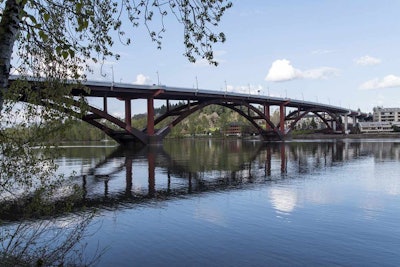 Nine outstanding construction projects that used slag cement received 2017 Project of the Year Awards from the Slag Cement Association (SCA) during the American Concrete Institute's 2018 Spring Convention in Salt Lake City. Each project was selected by the SCA's Technical Marketing Committee because of its exemplary and innovative uses of slag cement in concrete mix design. Awards were presented for Architectural, Durability, Green Design, High Performance, Innovative Application, and Sustainability.
The following three bridge projects were among the nine honored projects:
Durability: I-91 Brattleboro Bridge – Brattleboro, Vt.; LafargeHolcim; Vermont's first cast-in-place segmental concrete bridge carries Interstate 91 over Vermont Rt. 30 and the West River. Slag cement was used in mass concrete pours and in ternary mixtures to increase bridge strength, reduce permeability, and improve the workability of the concrete.
High Performance: Sellwood Bridge – Portland, Ore.; Ash Grove Cement Co.; Slag cement was used at 50 percent replacement of portland cement in mass concrete to lower heat of hydration and had an average strength of over 6,700 psi in 56 days.
Innovative Application: St. Croix Crossing – Oak Park Heights, Minn,; Skyway Cement Co.; The project team felt slag cement was a must for its beneficial effects on compressive strength, freeze/thaw durability, surface scaling, and rapid chloride permeability. The project included more than 200 mass concrete placements, most including 65-70 percent slag cement.
"The SCA's awards program does a great job of showcasing how versatile slag cement can be, and how it can help create stronger, more durable, and sustainable concrete structures," said Ed Griffith, SCA president, in a press release. "These case studies are a great resource for the industry."
The entire list of winners is available on the SCA website.