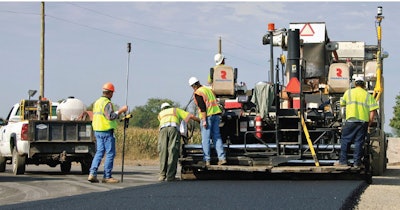 The new $1.3 trillion federal spending package approved just before a government shutdown deadline boosts funding for highway programs by 8 percent and triples the funding to the Transportation Investment Generating Economic Recovery, or TIGER, program, according to the American Road & Transportation Builders Association.
The appropriations were passed by the Senate after a late-night debate March 22 that extended into early morning March 23. President Trump added a bit of extra drama after the Senate vote, saying he might veto the bill because it didn't include enough money for building a wall on the U.S.-Mexico border, and because it did not address the legal status of DREAMers, those who entered the country illegally as minors and have been allowed to stay for renewable two-year periods.
Trump signed the legislation later that afternoon. Had he not, the federal government would have shut down, starting at midnight.
The appropriations for fiscal year 2018-19 includes $46.76 billion for Fixing America's Surface Transportation Act (FAST Act), a $3.5 billion increase, ARTBA reports. The money is used for federal highways and other surface transportation programs.
The legislation includes an additional $2 billion in grants for state highway, bridge and tunnel projects funded with the same formula as Surface Transportation Block Grants, according to ARTBA. The appropriations also provide $225 million for a rural state competitive grant program for bridge projects and $320 million for federal/tribal highways.
ARTBA also reports that grants under TIGER (Transportation Investment Generating Economic Recovery) will increase from $500 million last fiscal year to $1.5 billion. The grants are awarded as matching funds by the U.S. Department of Transportation for highway, bridge, rail and other transportation projects.
The appropriations include a provision that the trucking industry had been pushing for. It throws out a requirement that truckers must get two nights of sleep before starting their work week, which now goes back to 82 hours instead of 70, according to The Washington Post.
Despite the increased transportation funding, ARTBA was disappointed that a long-term fix to the Highway Trust Fund, which is predicted to become insolvent as early as 2021, is still nowhere in sight.
"While the increase in surface transportation investment is a positive step, it in no way lessens the need for Congress and the president to take action this year on a long-term infrastructure package with a permanent Highway Trust Fund solution as its centerpiece," writes Dean Franks, ARTBA senior vice president of congressional relations. "This remains the most pressing legislative priority for ARTBA and its coalition partners."