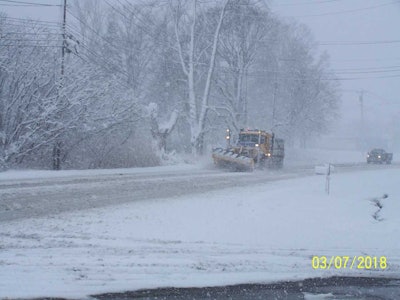 New York's state and local agencies have been pulling out all the stops to keep roads clear after two nor'easters pounded the state in one week, dumping as much of 26 inches of snow in some areas.
They've been deploying tow plows, which can plow two lanes at a time.
They've also been sending plows in unison down highways in a process called echelon plowing. The process can be irritating to drivers who want to pass, but the New York State Department of Transportation says it's the fastest, most efficient way to clear the roads. It also "prevents snow from being pushed back and forth between lanes as traffic hits it," David Smith, NYSDOT Region 3 director, tells Spectrum News.
Here are some views from NYSDOT and other transportation agencies' social media showing what it's like to be a snowplow driver in New York:
Life in the plow
Here's what it's like inside a NYSDOT plow truck.

Plow drivers have a lot going on. Give them space to work and #DontCrowdThePlow pic.twitter.com/aAp8JQLgOZ

— NYSDOT (@NYSDOT) March 7, 2018
#Snow plows in action on #NY110 and #NY25A in @HuntTownHall pic.twitter.com/AZ7hDmrr1e

— NYSDOT Long Island (@nysdotli) March 8, 2018
What does plowing through 12-18 inches of snow look like? Let our New York Division show you. This video was taken during the heart of the nor'easter Wednesday afternoon near I-87 exit 16 (Harriman). #DontCrowdThePlow #BlackTop pic.twitter.com/p7TfXA3yA1

— NYSThruwayAuthority (@NYSThruway) March 8, 2018
Scenes from the road