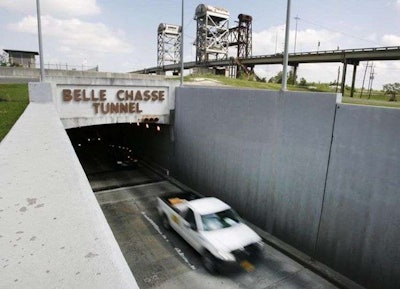 Louisiana Department of Transportation and Development (LADOTD) Secretary Shawn D. Wilson announced that the department is moving forward with plans to solicit partners for its very first Public Private Partnership (P3). The P3 venture would provide the estimated $122 million needed to replace the Belle Chasse Tunnel and Bridge, which are the primary access points for western Plaquemines Parish residents and businesses, as well as the Navel Air Station.
Currently, the tunnel carries traffic in one direction across the Intracoastal Waterway, and the bridge carries traffic in the other direction, but the tunnel leaks and is often closed, requiring the bridge to be converted to two-way traffic. The bridge is old and requires a lot of maintenance.
The proposed project would replace the tunnel and bridge with a new mid-level, fixed-span bridge, which would carry traffic in both directions and reduce or eliminate the delays associated with operations and maintenance of the older infrastructure.
"There has been an outcry from the public for long overdue projects like this, and we are working to find innovative means to deliver," Wilson said in a press release. "This project, as well as others, would have been funded under the gas tax proposal that the legislature did not pass last year. Recognizing that not moving forward is unacceptable, innovative funding mechanisms, such as Public Private Partnerships using tolls as match and federal discretionary funding opportunities, will play a role in our future development."
In mid-December 2017, the Louisiana Joint Transportation Committee, with the support of Gov. John Bel Edwards, approved the use of the P3 contracting process to negotiate a cooperative arrangement with the private sector. On Feb. 20, 2018, the LADOTD issued a Notice of Intent (NOI) seeking letters of interest from interested private companies and investors.