Azuga, a global provider of connected vehicle and fleet technologies, has been selected as a vendor for an experimental program in Washington that's exploring whether a road usage fee, rather than a gas tax, might be a better way to fund transportation infrastructure.
The Washington Road Usage Charge Pilot Project is being launched to assess whether drivers could and should be charged for the miles they drive.
State tax revenue will decline as vehicles become more fuel-efficient or use no gasoline, experts say. Considering that the gas tax is the main source of funding for Washington state's roads, bridges and ferry system, officials there say they must find new funding approaches to sustain their transportation system in the future.
The project will tap Azuga's technology for the nation's first road-usage charge pilot project to test interoperability between state systems, according to Azuga, which is based in San Jose, California.
The Washington pilot project is working with the Oregon Department of Transportation's existing OReGO program to research road usage charging as a possible replacement for the gas tax.
Oregon's road-charging program has been a pioneer with its experimental program since 2015. Last fall, it received two U.S. Department of Transportation grants totaling $4.9 million.
In Washington, the program is just getting off the ground. Participants who are signing up will be paid 2.4 cents per mile for driving distances statewide, an Azuga spokesman tells Equipment World. The program is inviting more participants to enroll in the 12-month program, seeking to sign up 2,000 drivers who will enroll and provide feedback. Participants will be recognized with a certificate and will receive gift cards.
Users plug a device into their vehicle's onboard diagnostics port to track miles driven and car data. They'll also be notified with on vehicle maintenance alerts that come through a mobile app.
If drivers choose to use the Azuga plug-in, the data will be given to an Azuga data science team, which will share the information with the Washington State Transportation Commission. That commission will work with Oregon's Department of Transportation to figure out a way to do interstate testing with the road-charging usage program.
Trump praises innovative approach
The Oregon program has drawn an encouraging shout out from President Donald Trump.
On February 21 the White House praised Oregon's experimental program that charges a mileage tax to drivers volunteering for the pilot project, Reuters reports. President Trump's nod adds to signals that he's open to finding new revenue sources to pay for his $1.5 trillion proposed infrastructure program.
Using mileage data collected by technology from Azuga, in states such as Oregon – which launched the first-ever pay-per-mile program in 2015 – along with California, Colorado and now Washington, are working together to explore how a road usage charge could be collected from cross-border and interstate traffic in an efficient and accurate manner.
However, Trump is also considering a 25-cent federal gas tax as one way to pay for the nation's ailing infrastructure. He posed the possible 25-cent increase February 14 during a meeting of bipartisan lawmakers
Azuga technology collects data, offers services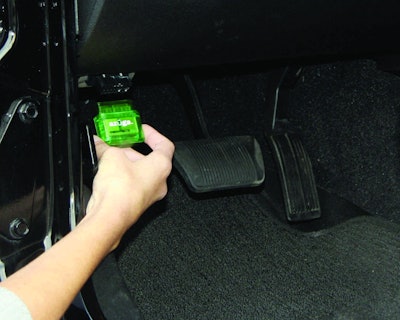 Azuga says its easy-to-use connected vehicle technology not only provides a means to accurately capture miles driven but also offers functions like subtracting taxes paid at the pump, and then, on the state's behalf, automatically invoicing and collecting net amounts due.
In addition, the company's end-to-end road usage charging solution provides value-added services to keep drivers engaged, such as Parked Car Locator, Trip Logging, Carbon Usage Tracking and the Check Engine Light Decoder, the company says.
"Azuga's telematics technology is seamless, effortless and accurate as it collects mileage data in real time and provides all back-office functions needed to translate mileage into simple, easy to understand road usage charge invoices," notes Nate Bryer, vice president of innovation at Azuga.
"We are excited to be a part of Washington's Road Usage Charge Pilot Project in order to assist the state in its examination of a reliable revenue source to support infrastructure investments for years to come."
Participant input will help shape policy by helping state lawmakers understand how this type of charge might work.
Here's a link to find out more about how the Washington pilot project works.
How Azuga will test interoperability between states
Azuga plans to later invite its existing Oregon customers on behalf of both OReGO and the Washington pilot project to participate through the end of the year. Selected volunteers will help both states study interstate interoperability between the two road usage charge programs.
"Washington's test of interstate interoperability with OReGO will for the first time in the nation, test actual cash transactions between two different states' road usage charging systems and will advance knowledge on cross-border collection considerations as the nation considers pay-per-mile systems as a possible future funding source." says Reema Griffith, executive director of the Washington State Transportation Commission.
"The Oregon Department of Transportation designed the OReGO program to be expanded and our team is thrilled to collaborate with our neighbors in Washington," comments Maureen Bock, OReGO program manager.
Azuga technology can help customers turn data about vehicles and their use into intelligence that improves operations and safety while reducing costs and risk, the company says. For more information Azuga's government telematics solutions visit azuga.com/products/government-telematics.
To stay up to date on Washington's Road Charge Pilot Program, visit waroadusagecharge.org.