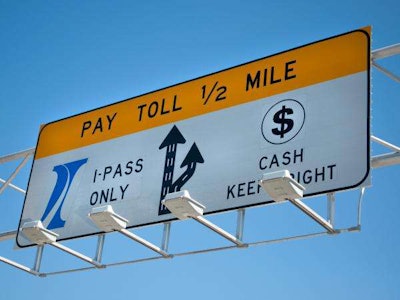 The Illinois Tollway Board of Directors on February 23 approved eight construction contracts and three professional engineering service contracts totaling $54.3 million.
The awards are among nearly $174.2 million in construction contracts approved in 2018. The awards come during the seventh year of the tollway's 15-year, $14 billion capital program, Move Illinois: The Illinois Tollway Driving the Future.
The capital program has created or sustained an estimated 57,430 total jobs as of January 2018, officials say.
The awards for February include five small business set-aside construction contracts. The Illinois Tollway's Small Business Initiative identifies select small business set-aside construction contracts, generally with values of about $1 million. Those contracts are offered to small businesses and promote use of small business goals on a project basis, officials say
Since the start of the Move Illinois Program in 2012, the tollway has approved 55 small business set-aside contracts to certified small firms, including 26 first-time prime contractors, a press release says.
To date, more than $5.6 billion has been invested by the Illinois Tollway since the Move Illinois Program began in 2012, with nearly $1.6 billion of that total committed to small, diverse and veteran-owned firms.
The contracts approved February 23 include 19 sub-consultants, two prime contractors and 11 subcontractors that are certified as disadvantaged, minority- and women-owned business enterprise firms and also, two sub-consultants, two prime contractors as well as one subcontractor that are certified veteran-owned firms.
February construction contracts awarded include these Illinois firms
A $13.9 million contract to Lake County Grading Co., Libertyville, for advanced earthwork grading for the new I-490 Tollway.
A $13.5 million contract to Herlihy Mid-Continent Co., Romeoville, for bridge reconstruction and ramp rehabilitation on the Tri-State Tollway (I-294) at the 159th Street Interchange.
A $2.2 million contract to Taff Construction Inc., Chicago, for LED lighting retrofit and intelligent transportation system (ITS) improvements between Belvidere Road and Half Day Road on the Tri-State Tollway (I-94).
A $1.4 million contract to Foundation Mechanics, Des Plaines, for grading and landscaping improvements between Arlington Heights Road and the Kennedy Expressway on the Jane Addams Memorial Tollway (I-90).
A $1.2 million contract to Lorig Construction Co., also of Des Plaines, for bridge rehabilitation work between 87th Street and Roosevelt Road on the Tri-State Tollway (I-294).
And three awards to Demarc Electric and Communications, Lombard: a $1.8 million contract for LED lighting retrofit and intelligent transportation system (ITS) improvements; a $1.1 million contract for camera installation systemwide; and a $455,551 contract for preventative maintenance of existing ITS equipment systemwide.
February pro engineering services contracts go to Illinois, Wisconsin firms
A $10.8 million contract to Chastain & Associates, Schaumburg, Illinois, for construction management services for the roadway and bridge rehabilitation between I-55 and Army Trail Road on the Veterans Memorial Tollway (I-355).
A $6.5 million contract to BLA Inc., Itasca, Illinois, for construction management services for roadway, ramp and bridge construction from Illinois Route 83 to York Road on the Illinois Route 390 Tollway as part of the I-490 Interchange.
A $1.5 million contract to Quantum Spatial Inc., Sheboygan, Wisconsin, for systemwide aerial mapping services upon request..
The Illinois Tollway provides detailed information about current Tollway construction contracts through the Construction Contract Tracker on the Tollway's website at illinoistollway.com.
Contractors and consultants can also access resources online to help them learn about how to do business with the tollway, including construction bid-letting schedules, professional service bulletins, manuals and construction bid calendars. These resources can be found in the "Doing Business" section of the tollway's website.