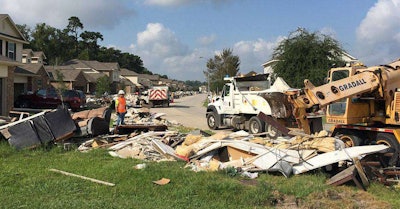 Texas has snagged $1 billion in federal funding to help the state's Gulf Coast rebuild after Hurricane Harvey and to reduce damage from future floods and hurricanes. That includes buying out flooded properties and elevating flood-prone structures.
Cities and counties can now apply for the money, which comes from the Federal Emergency Management Agency, according to a news release from Governor Greg Abbott's office. The money will be administered by the Texas Division of Emergency Management.
Harvey dumped more than 60 inches of rain in parts of southeastern Texas in August, and along with its high winds, damaged thousands of homes. The storm caused $125 billion in damage in the state, the Associated Press reports.
Along with buyouts and elevation, the FEMA money can be used for drainage and reservoir projects to prevent flooding; projects that reduce the severity or frequency of floods; building flood-prevention structures, such as dams, sea walls and levees; and large-scale channeling of waterways.
The state received half of the money February 13, and the rest becomes available on or before August 25, according to Abbott's office. The projects will be reimbursed at 100 percent by FEMA, rather than the typical 75 percent, according to The AP.
Abbott said additional FEMA money could be available for requests made by cities and counties. The state will also benefit from $89 billion in funding recently approved by Congress for disaster relief and $5 billion in federal money for community block grants, he said.
"Texas has maintained from the beginning that we would rebuild in ways that reduce the risk of future damage to property and lives, and that's exactly what these funds are for," Abbott said. "While this announcement is another important step toward recovery, we still have more work ahead of us, and I want to reassure every Texan impacted by Harvey that we will not let up until your homes and communities are restored."