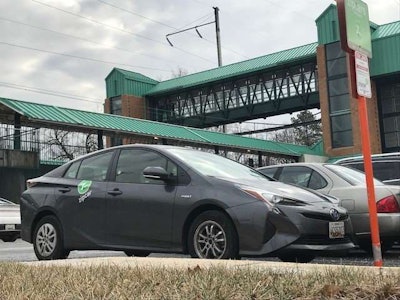 Maryland light-rail riders can now reserve Zipcars at eight stations.
The Maryland Transit Administration has entered an agreement with the car-share program to provide 15 Zipcars at eight Light RailLink, Metro SubwayLink and MARC Train stations. MTA says the Zipcars will help reduce reliance on personal vehicles, ease traffic congestion and reduce pollution.
"Car sharing expands mobility options for existing transit riders who can't afford or don't want the burden of full-time car ownership," said MTA Administrator Kevin Quinn. "This program also will allow new, potential riders to try transit without losing the option to drive when necessary."
The cars can be reserved for as little as an hour or for up to seven days, MTA says. Reservation costs include gas, maintenance, insurance and 180 miles of driving.
Those wanting to reserve a Zipcar fill out an online application and receive a Zipcard, which when held up to the windshield unlocks the car. The car must be returned to the location where it was reserved.
The Zipcars can be reserved are at the following stations:
Light RailLink – Mount Washington and North Avenue
Metro SubwayLink – Mondawmin
MARC Train – Dorsey, Halethorpe, Laurel, Odenton and West Baltimore