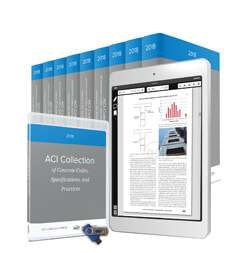 The American Concrete Institute (ACI) announced the release of its 2018 ACI Collection of Concrete Codes, Specifications, and Practices, which was formerly known as the Manual of Concrete Practice.
It contains information on concrete design, construction, and materials, with nearly 50 codes and specifications and more than 200 practices, including guides and reports. Categories covered in the manual include building codes, specifications, concrete materials, properties, design, construction, reinforcement, specializes application, repair, structural analysis, and innovation, as well as slabs, formwork, and masonry.
The ACI Collection is available as an online subscription, a USB drive, and an eight-volume book set. The online subscription includes access to every new ACI document as soon as it is published, plus metric and historical versions of ACI's codes and specifications. Individual volumes of the ACI Collection are also available, plus special online access for multiple users, entire offices, and large multi-national companies.
To subscribe or order the ACI Collection, call 248-848-3800 or visit concrete.org.