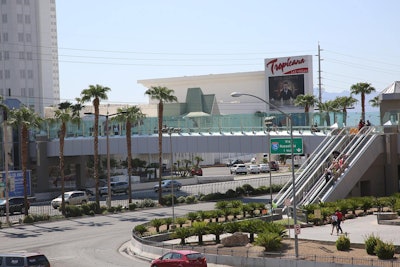 The pedestrian bridges at Tropicana Avenue and Las Vegas Boulevard have undergone a $34 million upgrade.
The bridges connect to the MGM Grand, Tropicana, Excalibur and New York-New York hotel casinos and serve about 130,000 pedestrians a day.
The work involved replacing 16 escalators and adding tempered-glass wind screens, polished aluminum composite material panel cladding and lighted hand rails, according to the Nevada Department of Transportation. NDOT reports that the bridges were opened December 21, several months sooner than the scheduled finish date. Whiting-Turner Contracting Co. is the construction manager at-risk, Jacobs is the engineer, and Studio West is the architect.
Work will continue on the bridges' elevators until March. The work includes new electronics, tempered glass and air conditioning units.
"This project will greatly improve the safety and efficiency of pedestrian traffic flows at one of the most active pedestrian corners in the state," said NDOT spokesman Tony Illia. "It will also create a sleek contemporary look consistent with the newer pedestrian bridge crossings along Las Vegas Boulevard, injecting some new glamour to the Strip."