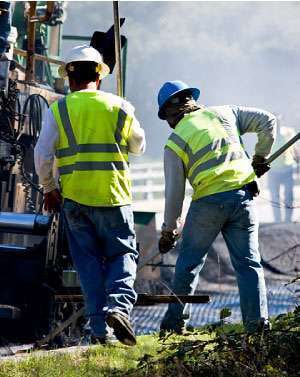 The Illinois Tollway is creating a workforce development initiative to train and place disadvantaged workers in roadway and transportation-related construction jobs.
The program will prepare both unemployed and underemployed workers for careers in the construction industry with tollway contractors.
Now, the tollway is asking for proposals (RFPs) for a vendor that will establish and manage this new workforce development and technical assistance initiative. The goal is to train disadvantaged people to work in the roadway construction industry, provide support services and assist qualified workers in finding jobs with contractors working on tollway projects.
The selected vendor will assemble existing educational and development agencies to provide comprehensive training and placement assistance for qualified job candidates across the 12 counties of Northern Illinois that are served by the tollway, the agency says.
There's a focus on providing services in Chicago and the south suburbs, as well as in the Aurora, Waukegan and Rockford areas.
The tollway says it will accept proposals from organizations, including not-for-profit organizations, with experience in managing workforce development programs in Northeastern Illinois. The initiative will identify, assemble and coordinate a network of satellite providers to deliver training and education services to program participants, according to a press release.
While the program primarily will focus on training new workers, it also will provide assistance to current workers so they can gain new skills and training, the agency says.
The new workforce development and technical assistance program will complement existing tollway training and technical assistance programs, which are designed to provide opportunities for disadvantaged workers, including minorities, women, veterans, ex-offenders and economically disadvantaged individuals, according to the tollway.
Once these workers gain the training and skills needed, they will participate in the Tollway's 15-year, $14 billion capital program, Move Illinois: The Illinois Tollway Driving the Future.
The Illinois Tollway is a user-fee system that maintains and operates 294 miles of roadways in 12 counties in Northern Illinois.
For more information and to download the RFP, visit illinoistollway.com, Doing Business section, Goods and Services, Bids page.