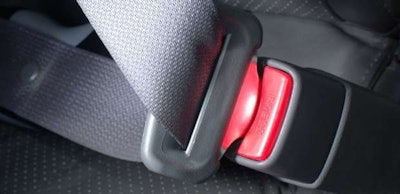 Commercial truck and bus drivers are buckling up more than ever, according to a recent survey by the Federal Motor Carrier Safety Administration.
The survey reports that 86 percent buckled up in 2016, up from 84 percent in 2013, when the survey was last conducted. The rise in seat-belt use has been steady since the surveys began in 2007, when a 65 percent usage rate was reported, the FMCSA says.
Still, the agency says, more commercial drivers need to wear their seat belts.
"While it is good news that we are making strong progress, we need to continue to emphasize that everyone, everywhere securely fasten their safety belt 100 percent of the time," says FMCSA Deputy Administrator Cathy F. Gautreaux.
The survey reveals that the gap between seat-belt use in states with primary seat-belt laws and secondary laws is closing. States with secondary seat-belt laws can only issue a violation if the driver is pulled for another infraction; whereas, states with primary seat-belt laws can pull over a driver solely for not wearing a seat belt or for unbuckled passengers.
In 2013, belt usage was 85 percent in primary states and 74 percent in secondary states. In the latest survey, primary states stayed the same, while belt usage in secondary states rose to 84 percent.
Teams of survey takers observed 40,000 commercial drivers of medium- to heavy-duty trucks and buses at 1,000 randomly selected roadside sites nationwide, FMCSA says.
Other highlights of the 2016 FMCSA survey, which was conducted with the National Highway Traffic Safety Administration:
The buckle-up rate was 89 percent on freeways versus 83 percent on streets.
The Northeast had the lowest belt rate at 71 percent versus 87 percent in other regions.
Male drivers had a buckle-up rate of 86 percent, with female drivers at 84 percent.
To obtain a copy of 2016 FMCSA Commercial Motor Vehicle Drivers Safety Belt Fact Sheet, click here.