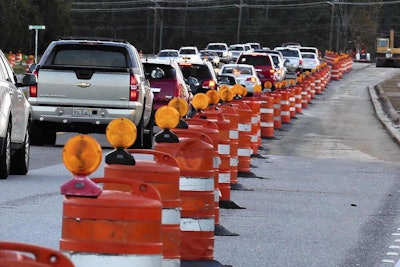 The states of Georgia and Alabama have announced they will halt work-zone lane closures on their respective interstates for Thanksgiving holiday drivers.
The Alabama Department of Transportation will stop lane closures from noon November 22 through midnight November 26.
The Georgia Department of Transportation will do the same from 6 a.m. November 22 to 5 a.m. November 27. GDOT will also expand the area to heavily traveled state routes and roads near major shopping areas. It plans to do the same for Christmas and New Year's holidays.
"As people visit friends and family for the Thanksgiving holiday, and shop on Black Friday, we anticipate heavy traffic," said GDOT State Construction Engineer John D. Hancock. "For easier and safer travel, we are limiting construction and associated lane closures."
Hancock also urged drivers to be careful while driving during the busy travel week, which usually brings an increase in fatalities.