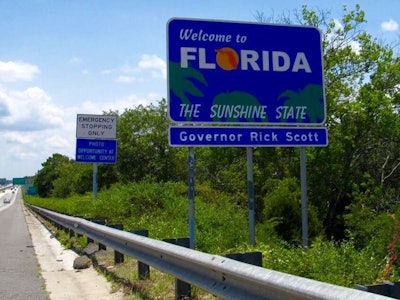 Most toll road collections in Florida will resume at 12:01 a.m. Sept. 21, the Florida Department of Transportation says.
The state had suspended tolls Sept. 5 throughout the state to aid Hurricane Irma evacuations and those evacuees' return to the state.
Tolls, however, will remain suspended on the Homestead Extension of Florida's Turnpike, south of the interchange with S.R. 874, to assist Monroe County residents with recovery efforts, the FDOT says. At least nine deaths in the county have been attributed to Irma.
Monroe County in the Florida Keys was one of the hardest hit areas in the state. Many of the travel restrictions enacted in the Keys after the hurricane have been lifted as of September 19, according to WPTV.
The checkpoint at Florida City has been removed; however, some restrictions remain for neighborhoods between Marathon and Key West, where only residents with proof of residency are admitted.
The Florida Highway Patrol continues to escort delivery of relief supplies to the Florida Keys, such as food to local grocery store and Red Cross resources, Gov. Rick Scott reports.
The patrol has also provided escorts for fuel trucks to refill gas stations. Scott said the number of gas stations reporting fuel outages had dropped to 30 percent as of Sept. 15. That's down from 60 to 70 percent during peak outage, Scott says.