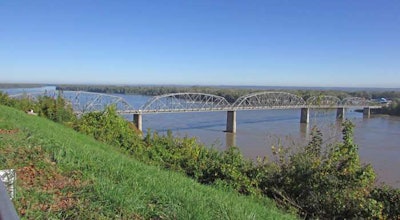 Construction will soon begin on a new bridge across the Mississippi River linking Missouri and Illinois.
The $60 million project to replace the 89-year-old Champ Clark Bridge will start in Louisiana, Missouri, at the U.S. 54/Missouri 79 interchange starting the week of Sept. 11, according to the Missouri Department of Transportation. The MoDOT is splitting the cost of the new U.S. 54 span with the Illinois Department of Transportation.
The first phase of the project involves removing and replacing sidewalk and then removing and replacing road surface at the intersection, which leads to the bridge.
The current bridge will remain open while the new one is built beside it; however, the MoDOT says drivers should expect lane restrictions on and off during the construction, which is scheduled to be completed in Fall 2019.
The contractor for the project is Massman Construction Co.