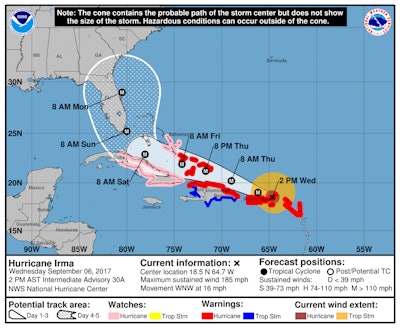 All toll roads in Florida have been suspended in preparation for Hurricane Irma.
Gov. Rick Scott directed the Florida Department of Transportation to suspend the tolls so people can access hurricane supplies and evacuate faster, if necessary.
"They will be suspended for the duration of the storm's impacts to Florida," Scott said of the tolls.
"…FDOT has been in constant contact with local districts and stands ready to provide traffic assistance alongside the Florida Highway Patrol and their law enforcement partners. We are continuing to closely monitor the developments of Hurricane Irma and will continue to take aggressive action to keep our state safe."
The Sun Sentinel reports that construction equipment, barriers and signs are being removed from South Florida highways in preparation for the storm, and contractors are working to secure their road construction sites. The state has also halted lane closures for construction work to speed evacuation, if needed.
Irma is a Category 5 hurricane with maximum sustained winds around 185 mph. Its current track shows it making landfall Sunday morning at the southern tip of Florida and then moving north up the east coast of the state.