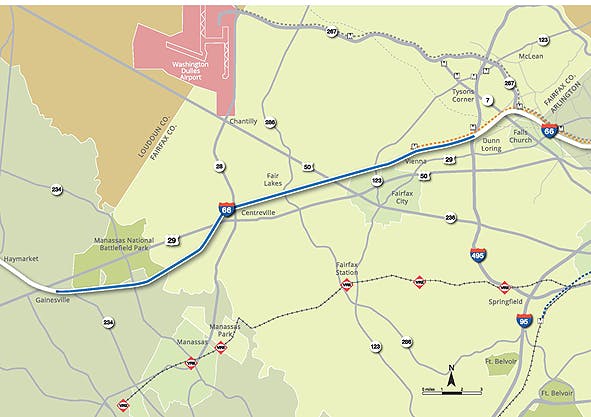 Virginia's plan to widen Interstate 66 outside the Capital Beltway could be in jeopardy if the proposed walking and biking trail along the highway is changed, as some bike advocates and lawmakers are demanding, the state's transportation secretary told The Washington Post.
The state plans to begin construction next year on the $2.3 billion I-66 Outside the Beltway project, which will add an express lane on 22.5 miles from Interstate 495 to University Boulevard in Gainesville. Drivers on the express lane would pay a toll or could ride for free with three or more occupants.
The trail would be built along the highway's shoulder and beside a sound wall in some sections. Opponents of the current plan say the path comes too close to the highway in some areas and want it moved to the opposite side of the sound wall from the highway. State Transportation Secretary Aubrey Lane, however, says that plan would take more right of way from residents' property along the highway, thwarting years of negotiations, according to the Post article.