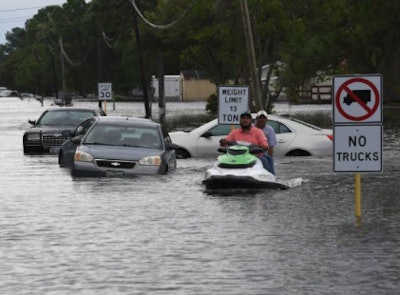 Embed from Getty Images
The U.S. Department of Transportation is making $25 million in emergency relief funds available to Texas to help with repairs on flood-damage roads and bridges resulting from Hurricane Harvey.
Harvey, which made first landfall on the Texas Gulf Coast on Aug. 25 as a Category 4 hurricane, made a second landfall Aug. 30 as a tropical storm. The storm has pounded Texas with an unprecedented amount of rainfall, leaving as many as 500 roads in the state facing flooding conditions.
"I have mobilized the Department of Transportation to provide whatever assistance Texas requires to restore the state's transportation systems," says Transportation Secretary Elaine L. Chao. "The funding provided today will help the state to act immediately and represents the beginning of our commitment to help repair Texas' affected infrastructure."
The Federal Highway Administration says the $25 million in funding will be used to restore emergency access and to initiate the most critical repairs to damaged roadways and bridges in the next few weeks.