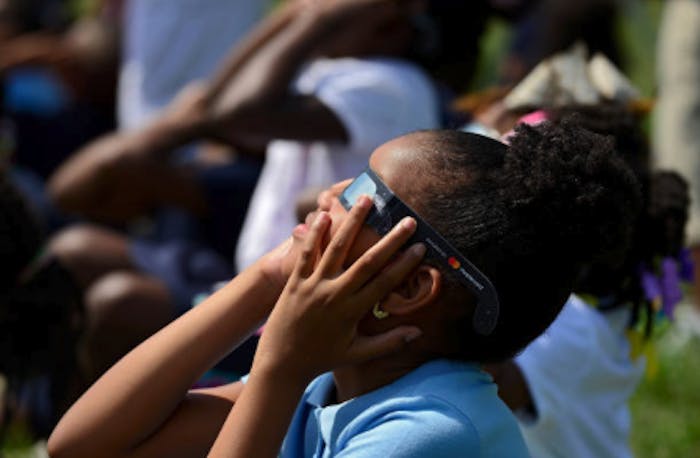 Embed from Getty Images
The Wyoming Department of Transportation didn't like the thought of more than 100 million eclipse glasses possibly ending up in landfills, so it has joined with Astronomers Without Borders to collect and redistribute those glasses to other parts of the world where eclipses will occur.

The astronomers organization is currently focusing on getting eclipse glasses to South America and Asia for eclipses in 2019. Many schools in those countries don't have the resources for viewing an eclipse nor for preparing students with hands-on science lessons. The group's ultimate goal is to inspire students and teachers to study science and work in scientific fields, the association says.
"This eclipse was seen by far more than any other eclipse in history," says organization president and CEO Mike Simmons. "It's possible that more eclipse glasses were distributed for this eclipse than all other previous eclipses."
The organization itself distributed 130,000 glasses to children in schools and hospitals leading up to the August 21st eclipse.
In its current drive to reclaim the glasses and prevent them from ending up in a landfill, the organization is working with Explore Scientific based in Springfield, Arizona, to weed out fake or damaged eclipse glasses.
The DOT will collect the glasses at its offices in Cheyenne, Casper, Wheatland, Riverton and Jackson. Other areas around the country are also collecting the eclipse glasses.
The glasses can also be sent to: AWB Eclipse Glasses Donation Program, Explore Scientific, 1010 S. 48th Street, Springdale, AR 72762.
The Astronomers Without Borders website also has a signup page for those interested in being a drop-off site for donated eclipse glasses.
The DOT added that the cardboard glasses can also be recycled, if you remove the lenses.