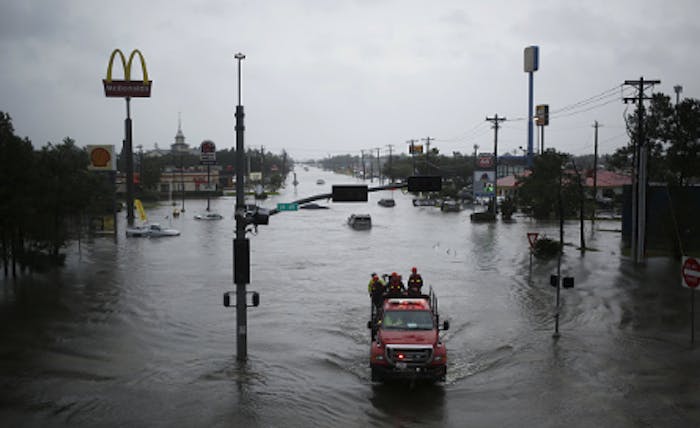 Embed from Getty Images
Officials say damage by Hurricane Harvey in southeast Texas is extensive…and ongoing, Engineering News-Record reports. Infrastructure assessments have been difficult, however, because almost all transportation networks remain completely shut down. All flights have been suspended in the Houston area, all port operations have ceased at Houston and Galveston, the Federal Railroad Administration declared a state of emergency that ceased all operations in the Houston area, and the Texas Department of Transportation (TxDOT) reports that more than 200 highway locations are closed or flooded.
"Clearly, the situation in Houston is dire," David Singleton, president and CEO of locally-based Griffin Dewatering, told the news agency. "We are unable to get to many of the sites where we have active dewatering occurring. Many projects have been impacted. The city is literally impassable at this point."
"I think that the final magnitude of the storm has not yet been defined, and the enormity of it will be incredible," Bob Pence, chairman of Fort Worth-based infrastructure engineer Freese and Nichols told the news agency. The company's offices in Houston and Corpus Christi will not reopen until at least Aug. 30.
To top off all the flooding, the U.S. Army Corps of Engineers started releasing water from the Addicks and Barker reservoirs on August 28. According to ENR, Col. Lars Zetterstrom, Galveston District commander released a statement saying: "Both reservoirs are rising more than half a foot per hour. If we don't begin releasing now, the volume of uncontrolled water around the dams will be higher and have a greater impact on the surrounding communities. We are coordinating floodwater releases from Addicks and Barker with the Harris County Flood Control District so they can make informed decisions for the communities they support."
Water from the reservoirs will flow into Buffalo Bayou, which is already past flood stage. San Jacinto River Authority (SJRA) officials  are also releasing water from Lake Conroe Dam, forcing mandatory evacuations for some neighborhoods along the water's path. At 72 hours into the storm, the Lake Conroe watershed had received approximately 18 inches of rain, which has caused the lake water level to rise over 4.25 feet above normal pool elevation.
The agency told the news agency that "SJRA operations personnel at the Lake Conroe dam have increased the rate of release to 39,600 cubic feet per second. This is a new record release rate for Lake Conroe, surpassing the 1994 storm event, which peaked at a release of 33,300 cubic feet per second. A tremendous volume of water is still flowing into the reservoir, and Lake Conroe personnel are working to slow the rise."
In addition to flood damage, Pence noted that flooded rivers will cause problems for the "slope and foundation stability of the road networks" and levee stability. Pence told the news agency that his  firm has been contacted by the Federal Emergency Management Agency (FEMA) for flood assessment work.
"It is early in the total damage that will happen, as the Houston area is expecting another few days of strong rain," Pence told the news agency, adding that the firm's Houston and Corpus Christi offices are closed until at least Wednesday, as the 24 inches of rain that has fallen in Houston "may double depending on how long the storm mass stays in place."