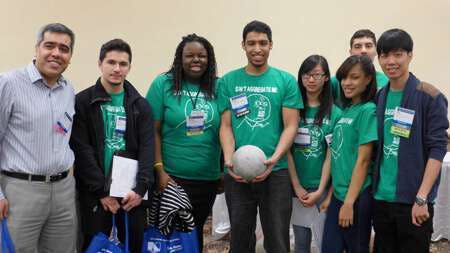 The American Concrete Institute (ACI) announced that $50,000 will be available to help student teams from international universities participate in the Fiber-Reinforced Concrete Bowling Ball Competition during the ACI Concrete Convention & Exposition March 25-29, 2018.
The competition gives participating teams a chance to demonstrate the effect of fibers in reinforced concrete, gain experience in forming and fabricating a concrete fiber-reinforced element, and encourage creativity in engineering design and analysis. ACI will award travel stipends of up to $10,000 to five teams of students from international universities who have not previously participated in an ACI student competition.
"In addition to teams from across the United States, ACI has historically enjoyed participation in our student competitions from universities throughout the Spanish-speaking Americas, the Middle East, and beyond," stated Ronald G. Burg, P.E., Executive Vice President, American Concrete Institute, in a press release. "Through this funding assistance, we hope to expand the global footprint of students active in ACI competitions, engage even more students through ACI's free student membership program, strengthen the network of ACI's international student chapters, and increase the number of students and professionals contributing to ACI's knowledge resources."
Teams interested in applying for the travel fund must complete an application and submit it by September 30, 2017. ACI will announce the recipients by Oct. 31. Registration and updated rules for the competition will be available on January 1, 2018.