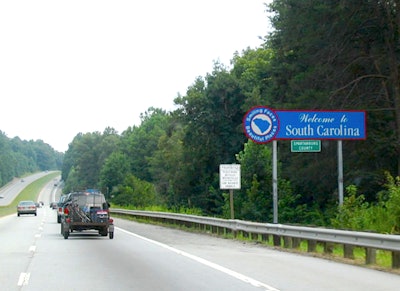 The South Carolina Department of Transportation has awarded the first project contracts as part of the recent road funding bill that went into effect July 1 which raises funds through the state's first gas tax increase in 30 years.
The projects, valued at $26.5 million, are for road resurfacing and rehabilitation projects in 27 counties that will cover close to 200 miles. Roughly $14 million goes to SCDOT prioritized projects, with the remaining going to Country Transportation Committees (CTC) projects.
"Without the passage of the Roads Bill and infusion of funding to the local CTCs, DOT would not have been able to proceed with advancing these projects to construction,' says Secretary of Transportation Christy Hall. "SCDOT engineers were prepared to advance these projects to contract prior to the passage of the Roads Bill. Now that the General Assembly has taken decisive action on guaranteeing road funding to support our plan to rebuild our roads, we are committed to putting those dollars to work quickly and will continue to advance projects to contract in accordance with our plan. "
SCDOT expects new revenues from the gas tax and additional fee increases will start accumulating within the next two months in the agency's new Infrastructure Maintenance Trust Fund account. The SCDOT Commission has approved a plan to commit $99 million of the new revenue expected to be collected in the first year to resurfacing, with the remaining $50 million collected used for the Rural Road Safety program, a new program that's included in the department's 10-year plan for rebuilding the state's highway system.
The recently awarded projects include:
Upstate Counties: Abbeville, Anderson, Cherokee, Greenville, Greenwood, Laurens, McCormick, Oconee, Pickens and Spartanburg Counties. Just over 80 miles on 62 highways in these counties will be resurfaced.
Midland Counties: Aiken, Chester, Kershaw, Newberry, Saluda and York Counties. Just over 41 miles will be resurfaced on 39 roads.
Pee Dee Counties: Chesterfield, Darlington, Dillon and Florence, Georgetown, Horry, Marion, Marlboro and Williamsburg Counties will see approximately 43 miles on 27 roads resurfaced.
Low Country Counties; Berkeley and Charleston Counties are scheduled to have approximately 24 miles on 21 roads resurfaced.
The complete list of roads to be resurfaced is available here.