The South Carolina Department of Transportation (SCDOT) says the combination of the recent gas tax and vehicle sale tax increases will help with its 10-year plan for rebuilding the state's highway system.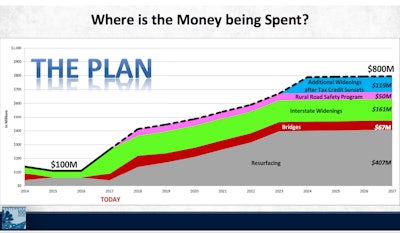 The gas tax increase, which began July 1, will increase steadily for six years, beginning with a bump of 2 cents per gallon each year to reach 12 cents per gallon. This is the first state gas tax increase in South Carolina since 1987.
SCDOT estimates funding will add $600 million per year over time, to reach $800 million per year by about 2023. At that point, resurfacing projects would receive the bulk of the funds at $407 million yearly, followed by interstate widenings, additional widenings, bridges and rural road safety.
"Our roads fell into neglect over a 30-year period. We believe the 10-year plan can make great strides in rebuilding our system," says SCDOT Secretary Christy Hall. "The new funding will trickle into the Maintenance Trust Fund at first. But as funding increases in small increments over the next six years, South Carolinians and our visitors can expect to see more road and bridge construction all over the state with each passing year."
As part of its 10-year plan, SCDOT is launching the Rural Road Safety Program. The goal is to reduce the number of rural road fatalities, of which South Carolina has the highest rate in the country, through updates to recently identified roads considered the most dangerous.
"The research done by our engineers has revealed that 30 percent of our highway deaths occur on only 5 percent of our highways and these roads are in our rural areas," says Hall. "We plan to invest $50 million of the new funds into this program each year to save as many lives as possible."
Updates to these roads will include rumble strips, guardrails, widened shoulders and adding shoulders where none currently exist.
The additional funds collected starting this year will also help SCDOT to expand existing programs.
"Our current bridge replacement program began in earnest in 2013," says Deputy Secretary for Engineering Leland Colvin. "The new funding enables us to set a higher target of replacing 465 bridges over the next ten years. Many of structures are load-restricted and cannot be used by school buses and larger trucks."
The Interstate Widening Program will also benefit SCDOT in the process of improving 140 miles of interstate highways and sees the potential transportation project funding increases as a way of expanding the program.
SCDOT says rebuilding and resurfacing is the biggest feature of the 10-year plan, as these projects will also receive the most funding. Deputy Secretary for Finance Brian Keys says the three-decade shortfall in resources Hall mentions has led to crumbling roads all over the state.
"The poor pavement conditions and countless potholes are spread throughout the system on our interstates, the major routes that connect our cities and towns and our secondary roads," he says. "These conditions did not occur overnight, nor will rebuilding the highway system be accomplished overnight. But the additional funding allows SCDOT to turn the corner and start the repairs."