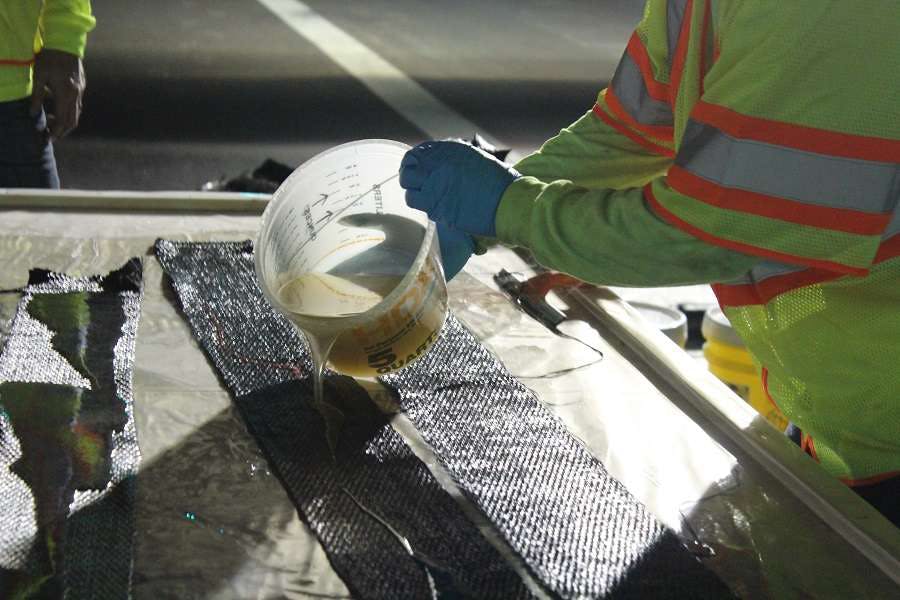 The Arizona Department of Transportation (ADOT) has used carbon fiber strips coated with reinforced polymer to fix girders on two Interstate 17 bridges in Phoenix that have been struck by vehicles that exceeded height restrictions.
This is the first time the agency has used the Fiber Reinforced Polymer (FRP) strips for repairs. The material wraps the girders, compared to other options that include injecting epoxy to rebuild portions of the steel-reinforced concrete structures, ADOT says.
The work, finished in May, was on the I-17 bridge over 19th Avenue and the Jefferson Street bridge of I-17.
"Our ADOT Bridge Group focuses on using new and innovative bridge-repair technologies that enhance safety while saving time and taxpayer dollars," says ADOT Senior Bridge Engineer William Downes. "The reinforced fiber strips add strength to the girders and are designed to limit the amount of debris that could fall should a girder be struck again."
Tuscon-based QuakeWrap developed the process used on these two bridges, and FNF Construction of Tempe, and FRP Construction of Tucson, were the contractors.
"We think the carbon-fiber repairs are effective, can extend the lifespan of structures and can be done in much less time than other repair methods," says ADOT State Bridge Engineer David Eberhart. "We're likely to use it again if and when repairs are needed."