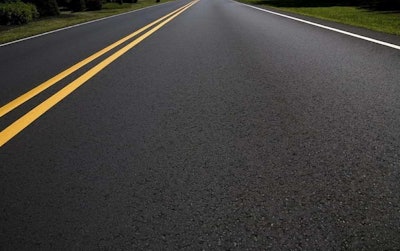 The National Asphalt Pavement Association (NAPA) presented its 2016 Operational Excellence Awards during the association's mid-year meeting in Chicago.
NAPA says these awards recognized asphalt pavement industry leaders for innovation and excellence in marketing, communications, and community outreach with the Community Involvement, Outstanding Brochure, and Outstanding Website Awards. The Asphalt Operations Safety Innovations and Ecological Awards recognize companies for their responsible practices.
"NAPA members strive for excellence in constructing high-quality asphalt pavements and in every aspect of their operations," says NAPA Chairman Dan Gallagher. "The five Operational Excellence Awards categories – Asphalt Operations Safety Innovation, Community Involvement, Ecological, Outstanding Brochure, and Outstanding Website – recognize a company's commitment to operational practices that make them good contractors, good industry ambassadors, and good neighbors."
The association named Lakeside Industries of Issaquah, Washington, as the winner of the Asphalt Operations Safety Innovation Award for its Super Bowl of Safety employee safety program, a competition used to generate excitement and reinforce the company's safety culture with the goal of creating awareness, accountability and performance improvements.
"What makes the Super Bowl of Safety innovative is the way it leverages our commitment to make safety meetings more engaging and meaningful by being interactive and focusing on solving problems," Lakeside Industries Director of Risk Management Cal Beyer says. "The Super Bowl of Safety incorporates real safety issues faced when working with hot-mix asphalt production and paving."
NAPA recognized Payne & Dolan of Waukesha, Wisconsin, as the finalist for the Asphalt Operations Safety Innovation Award for its CRM Safety mobile app. The company developed the app as a means of delivering safety resources to employees both in the office and at job sites. Through the app, foremen can access safety forms, documents and other resources. Crew members can also file safety-related reports and management can push out to employees any safety-related information.
"The mobile app provides an updated perspective on safety attitudes allowing employees to 'bring' safety with them on their mobile devices," Payne & Dolan Safety Manager Michael Del Fava says. "It spreads the safety message and keeps safety at the forefront of our collective work mentality."
Other winners and finalists include:
Community Involvement Award Winners
The Mid-Central Division of Rogers Group Inc. of Gallatin, Tennessee
The Community Team at Silver Star Construction Co. Inc.of Moore, Oklahoma
Community Involvement Award Finalists
The Road to a Better Community at Barrett Paving Materials Inc. of Watertown, New York
Simon Contractors Cares at Simon Contractors of Cheyenne, Wyoming
Ecological Award (Existing Plant) Winner
The Lane Construction Corp. of West Columbia, South Carolina, for West Columbia Facility
Ecological Award (New Plant) Winner
Pike Industries Inc., an Oldcastle Materials Co. of Belmont, New Hampshire, for HMA P-727
Ecological Award (Existing Plant) Finalist
Barrett Paving Materials Inc. of Watertown, New York, for the Watertown Drum Plant
Outstanding Brochure Award Winner
Gallagher Asphalt Corp. of Thornton, Illinois For "Diamond Commendation Brochure"
Outstanding Website Award Winner (State Asphalt Pavement Association)
Asphalt Paving Association of Iowa of Ames, Iowa, for www.apai.net
More details on NAPA's awards program is available at asphaltpavement.org/awards.