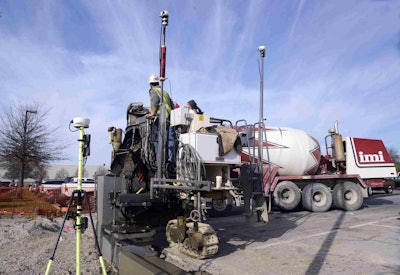 Fox Enterprises now constructs offset curb, gutter and parking lot "island" placements using an on-site guidance system. The system permits automated placement of those items, including tight radii. And his fleet recently expanded to a larger slipform paver that can do offset curb-and-gutter paving, but also inset pavement slab paving.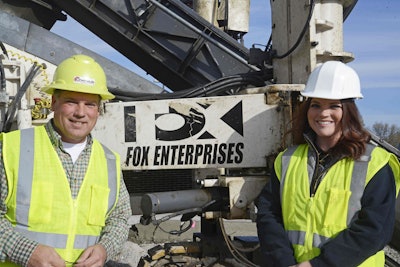 "We want to be the best there is, and for that we need to buy the best technology available," said Ed Chenault, president, Fox Enterprises, Richmond, Ky. "Automated control of the paver is the future. My daughter some day will take over the reins of the company, and I want to have the next generation paving technology available to the next generation of management. I didn't buy the new slipform pavers for a five-year plan, I bought them for the long haul, the future of the company."
To this end Fox bought two Wirtgen SP 15i slipform pavers with exclusive AutoPilot control technology in 2012 and 2014, and followed up with the next-sized model, the SP 25i in late 2016.
"The bottom line is that with this technology, on many projects we can install curb at a lower cost than before," Chenault said. "We've overcome the challenges that you get with any kind of new technology. Now that we know the machines' capabilities, we are getting more efficient in their use. We're developing more and more opportunities to put them to work, and are pursuing other contractors that are using similar technologies, because they understand the advantage of competitive pricing with higher technology."
"The technology is really cool, and I use GPS daily," said Samantha Chenault, vice president, Fox Enterprises. "If we can advance the technology with the kind of work that we are doing and keep up with the times, this is the best way to do it."
Quite often Fox will serve as a subcontractor, which was the case when it was placing curbs, gutters and islands in a reconstructed parking lot for a major manufacturer outside Lexington, Ky. Chenault was working on a stormwater improvement and parking lot expansion there. "Using AutoPilot we installed a large number of trench drains, and were placing curb and gutter to tie into the trench drains," he said. "We have more success with the tight radius for curbs using AutoPilot than we do with stringline."
To use AutoPilot Fox has to select the right project and mate the AutoPilot to the project, Chenault said. "It depends on the general contractor we are following," he said. "The general has to buy in to the utilization of the technology. We have found that most of our contractors, customers or clientele welcome this technology with open arms, because they understand the need for better technology."
Wirtgen AutoPilot
The Wirtgen AutoPilot is an innovative stringless control system for use with Wirtgen SP 15i and SP 25i concrete slipform pavers, which offers reduced costs of construction, faster setup times, and enhanced accuracy for paving projects.
AutoPilot is a user-friendly, cost-effective control system for poured-in-place concrete profiles, such as curbs, safety barriers or slabs. AutoPilot is a GPS-based system that ensures highest precision and optimum efficiency in slipform paving, regardless of whether straight profiles or highly complex curved paths are being poured.
The proprietary Wirtgen AutoPilot control system gives construction companies a distinct competitive edge, as it bypasses the need to establish a digital terrain model. That's because programming is completed by using a rover pole to capture coordinates or by simply using the jobsite plans. This means a surveyor is not required.
The AutoPilot system utilizes a computer integrated in the machine, as well as a control panel that allows intuitive operation. For course control, two machine-mounted GPS receiver
s communicate with an additional GPS reference station positioned on-site. For precise grade control, a laser, ultrasonic sensor or total station is used. The machine control software is a proprietary Wirtgen development.
At the manufacturing plant parking lot, the general had surveyed the project as if traditional stringline was going to be used. "AutoPilot permits us to come out, set up base station, and not know any kind of plans," Chenault said. "The traditional way is to create a digital terrain model of the job, put up a base station and do the work day-in and day-out. We come in, put the base station down, sho
ot the points and we don't have to know the coordinates."
Both SP 15i pavers were equipped for AutoPilot, but since then Fox sold the older paver and replaced it with the SP 25i. "We had two complete systems in two machines, that could be run simultaneously, even on the same job sites," he said. "The SP 15i has advantages over its competitors. The configuration of the three-track, all-track steering is very useful, with the front track posts maneuverable in different positions on-the-fly. The all-crawl steer — and its ability to handle a big variation in subgrade conditions — was a big reason we acquired the machine."
For offset paving, while molds are available from Wirtgen, the SP 15i can accommodate existing molds from a contractor's inventory. Moreover, the molds can be mounted on either side of the paver. "We've not yet had to utilize that technology, but we keep that in mind," Chenault said "We converted the molds we had; Wirtgen provided an adapter plate to accommodate them, and we can continue to use our existing inventory."
The SP 15i and SP 25i also can be fed concrete mix either via auger or belt. "We're using the auger for concrete delivery as that's what we're accustomed to, and it works well," Chenault said.
Inset Paving JPCC Highway
In May 2017, Fox was using its new SP 25i not in offset mode to place curbs, gutters or parapet walls, but in inset mode to place a 12-ft. wide jointed portland cement concrete (JPCC) pavement for Ky. 80 in Hazard. The 7,000-cu.-yd.-project involved the complete removal of a 13-in. concrete pavement in which the subgrade failed, replace 4 in. of undesirable subgrade with new stone, and place 13-in.-thick JPCC pavement 12-ft. wide. This is done in 2,800-linear ft. pours. It's a Kentucky Class A, 16-bag mix that must meet 3,500 psi, but was testing out at over 5,000 psi. A retarder was added to give another 30 minutes workability per truck load.
On Ky. 80, the crews were averaging 550 to 700 yards per 12-hour shift with the SP 25i. "Slipform paving was what built our company, and the SP 25i fits into our program," he said. "It's like a 'Transformer', a multi-purpose slipform paver that will curb, and pave wide as well. It has the versatility of a smaller machine for curbs, gutters and parapets, but is capable of paving zero to 12 ft. wide."
Fox will use it for small repair paving that will let them do 300 to 400-ft. intersections in which failed asphalt is removed, and replaced with 24-hour fast-set concrete. The SP 25i's mobility is a plus there. "The ease of moving the machine is outstanding and the set-up time is minimal," Chenault said.
Fox also has used the SP 25i with AutoPilot, having placed 10,000 ft. of DOT curb on asphalt base. The system was moved from his remaining SP 15i to the SP 25i with little effort.
"The versatility of the machine was a big selling point to me," Chenault said. "I can pour curb, big sidewalk flatwork, barrier wall, and pavement slabs 12-ft. wide and less. We ordered all options; we order everything and have it installed, even if we remotely plan on using it. It's a lot cheaper to do it that way, and we never know if we will need it. We are a custom slipform paving subcontractor. We have to cater to our prime contractors, and as we never know what the next chapter will bring, we want to be prepared."
The next generation of management at Fox has been active with the company for several years, learning a wide variety of tasks. Samantha Chenault was graduated from Eastern Kentucky University in May 2015 with a degree in general business and a minor in construction management. She wears different hats at Fox, serving as project manager, in charge of safety programs, and overseeing marketing projects.
"I know that the Wirtgen pavers are the future of slipforming, and future generations of ownership of the company that I started will be utilizing this technology to take us to the next level," Chenault said.
Fox's distributor is Brandeis Machinery & Supply, Inc., out of Lexington, where Chenault and operations manager Chris Bennington work with sales rep Lyle Dalton. "We work through the dealer with many technical issues, but Wirtgen America in Nashville has stayed available as much as we need them, with Nick Maupin and his staff aiding us," he said.