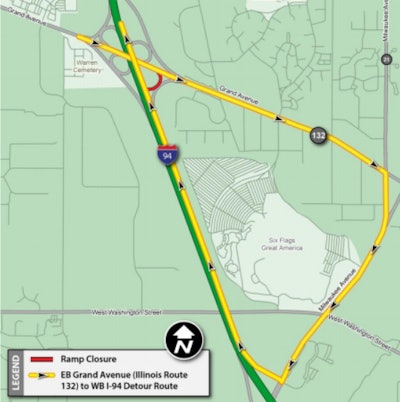 Work on the Tri-State Tollway (Interstate 94) at the Grand Avenue Interchange in Gurnee, Illinois, is set to begin July 17 and will continue through spring 2018, according to the Illinois Tollway.
Project work will include extension of the barrier wall separating the westbound exiting traffic from the I-94 mainline traffic and moving traffic exiting to westbound Grand Avenue to the barrier-separated area.
Construction will also include shoulder work, roadway lighting, drainage and signage improvements, ramp maintenance, pavement marking and landscaping, the Tollway reports.
"Extension of the barrier wall will improve traffic flow by separating exiting traffic to westbound Grand Avenue from mainline I-94 traffic," the agency says. "The decision point for all drivers exiting to Grand Avenue will occur well ahead of both the exit ramp to eastbound Grand Avenue and the exit ramp to westbound Grand Avenue, and the new lane will provide additional space for exiting traffic to queue on the ramp side of the barrier wall if needed."
Detours will continue through November of this year.