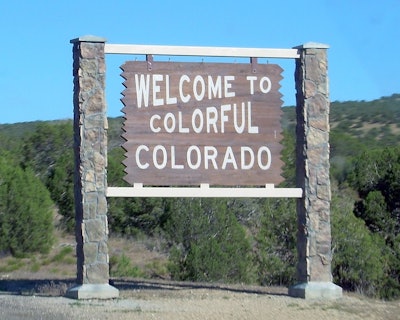 Colorado Gov. John Hickenlooper has appointed two new members of the state's Transportation Commission and has re-appointed three members. Commissioners are appointed by the governor and serve four-year terms.
"We have a high regard for the commission and the advisement its members contribute toward our long-range planning and strategy," says Colorado Department of Transportation Executive Director Shailen Bhatt. "The commissioners offer unique perspectives resulting from their individual backgrounds, areas of interest and expertise. More importantly, they are the voice of the general public and the regional areas they serve."
The new commissioners include:
District 3: Luella Chavez D'Angelo
Counties served: Arapahoe and Douglas Counties.
Chavez D'Angelo is the vice chancellor of enterprise development at the University of Colorado-Denver. She has more than 15 years of experience as a senior executive within Fortune 500 companies. Chavez D'Angelo is the recipient of numerous honors spanning her professional career including: 2014 Outstanding Women in Business/Lifetime Achievement Award from the Denver Business Journal; 2014 Top Ten Leader from Executive Hispanic Magazine; and 2013 Most Powerful Women from the Colorado.
District 4: Karen Stuart
Counties served: Adams and Boulder Counties, and a portion of Broomfield County.
Stuart is the owner of Karen Stuart Consulting, a public and community outreach agency. She also currently serves as the executive director of Smart Commute Metro North Transportation Management Organization. Stuart is the former mayor and council member for the City of Broomfield. She currently serves on the Metro North Chamber of Commerce Development Council and is a member of the RTD FasTracks Citizen Advisory Board.
---
Re-appointed commissioners include:
District 1: Shannon Gifford
Counties served: Denver County.
Gifford has served on the Commission since July 2013. She is currently president of Denver-based Helios Associates, a business and financial consulting firm. She has worked for the past two decades as an independent consultant, principally in the real estate industry. Among her many civic activities, she is a member of Denver's planning board and a past board member/president of the Lower Downtown Neighborhood Association. She currently serves on the boards of the Denver Film Society and Colorado Humanities.
District 8: Sidny Zink
Counties served: Alamosa, Archuleta, Conejos, Costilla, Dolores, Hinsdale, La Plata, Mineral, Montezuma, Rio Grande, Saguache, San Juan, and San Miguel Counties.
Zink has served on the Commission since July 2013. She is a CPA and an owner of FredrickZink & Associates, PC, in Durango. She currently serves on two corporate boards, First National Bank of Durango and FastTrack Communications. Zink also serves on the board of the non-profit, La Plata Homes Fund. She has held several leadership positions within the CPA profession and is an active member of the business and political community. She is a former Durango Mayor and city councilor. Zink was awarded the 2014 Citizen of the Year by the Durango Chamber of Commerce.
District 10: Bill Thiebaut
Counties served: Baca, Bent, Crowley, Custer, Huerfano, Kiowa, Las Animas, Otero, Prowers, and Pueblo Counties.
Thiebaut has served on the Commission since August 2013. Thiebaut, an attorney, served in the Colorado General Assembly from 1987-2002. He also was as a member of the Colorado House of Representatives until 1993, and a state senator until 2002, including a year as senate majority leader. While serving in the legislature Thiebaut contributed to Colorado's statewide transportation needs, focusing on regional roadway and air service priorities. He is an adjunct faculty member in the Political Science Department at CSU-Pueblo, and is a former Pueblo County public trustee and Pueblo district attorney.