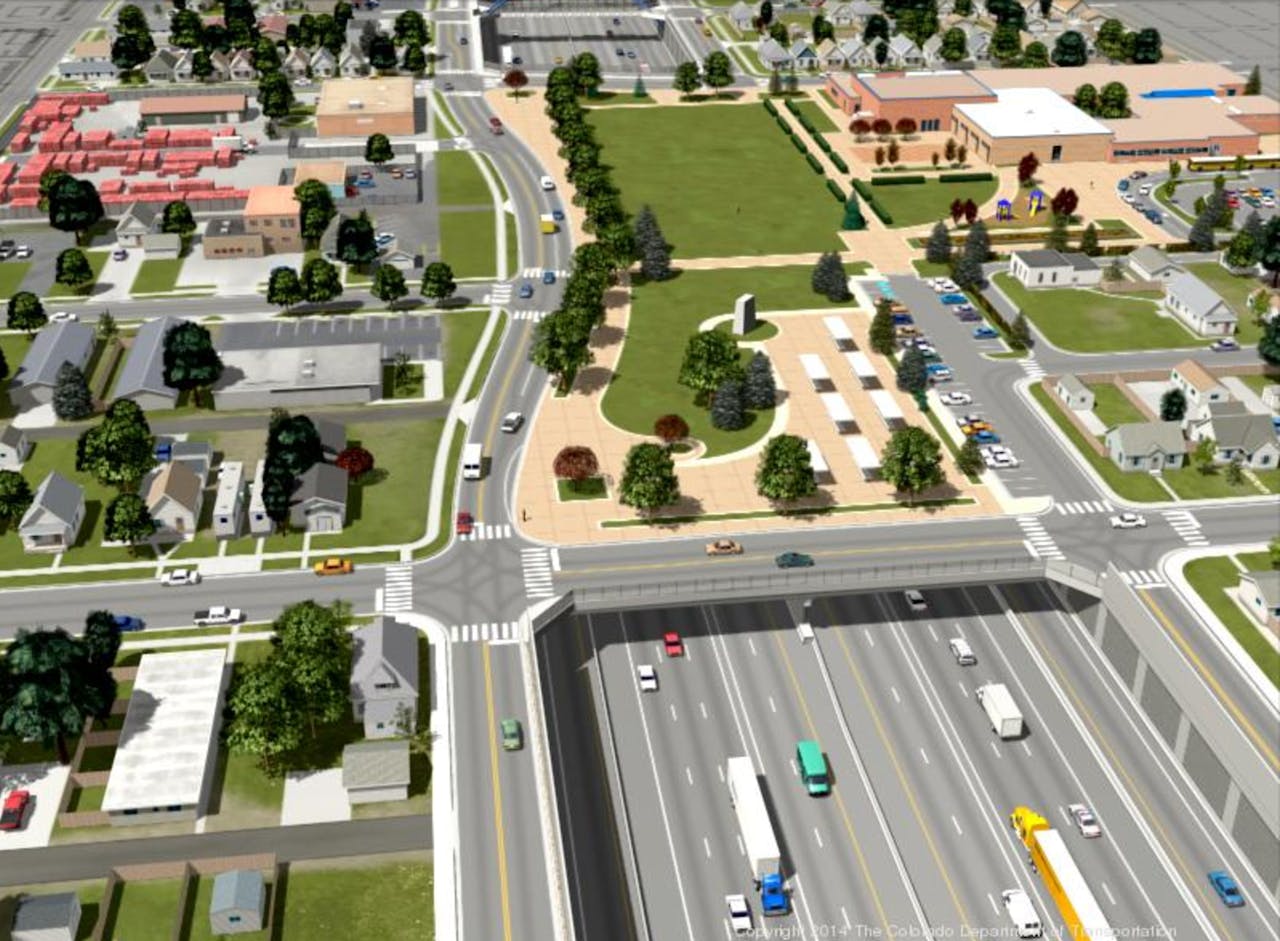 In granting a $1.2 billion contract for the expansion of Interstate 70 through north Denver, the Colorado Department of Transportation (CDOT) will require the contractor to hire 20 percent of its workforce (approximately 350 people) from the 15 neighborhoods adjacent to I-70 in Denver and Aurora, the Denver Business Journal reports. The project includes expanding I-70 between I-25 and I-225, sinking a portion of it between Brighton and Colorado boulevards, and building a 4-acre park over the lowered highway. New express toll lanes will also be added, and the viaduct in north Denver will be removed. CDOT is expected to select a contractor this summer, as construction is slated to begin in 2018.
CDOT was one of nine transportation agencies nationwide to get permission for the "hire local" pilot program from The U.S. Department of Transportation. The program got the attention of Gary Community Investments, including the Piton Foundation, which is partnering with CDOT by investing more than $1 million in job training and support programs for the Central 70 project, along with support programs such as childcare, which can be important for finding and keeping a job in the industry.
The Community College of Denver, the Emily Griffith Technical College, the Colorado Contractors Association and Associated General Contractors are also partnering with CDOT to support the program. CDOT told the news agency that the neighborhood career training and resource center will offer six courses with a flexible training schedule in a facility with three work bays, four hands-on training rooms, and a yard designated for heavy equipment. It will also have job fairs for construction careers, access to CDOT's job listings for maintenance workers and, starting in 2018, information about jobs on the Central 70 project.
"GCI takes a two-generation approach to investing that includes helping low-income families increase their financial security," Dave Younggren, CGI's president and CEO told the news agency. "By providing access to job training and support services, this program will help local families increase their earning potential, which will positively impact their children's education, health and future economic outcomes."
"The Central 70 Project is, by itself, a major economic driver for the entire Denver metro region. CDOT wanted to also ensure that these economic and job opportunities were made available to local residents," Shailen Bhatt, CDOT's executive director, said in a statement, according to the news agency. "CDOT is one of only a few DOTs in the nation to implement local hiring, and we are doing this not just by setting hiring goals but by actively reaching out to our partners to create a comprehensive support system that makes a career in construction accessible for everyone."
"This is a phenomenal collaboration between CDOT, the city, and so many great Denver partners that begins to fulfill the promise to our residents to open up access to the opportunities that are created by the reconstruction and development planned in this area," Denver Mayor Michael Hancock said in a statement, the news agency reports. "I believe public projects should invest in their communities, and that is the value we see in action today. This workforce center is a critical step to providing local, long-time residents with good homes, access to resources to live healthy lives, and training that will equal job placement. This center is a beacon of empowerment for our people and critical support for our neighborhoods."