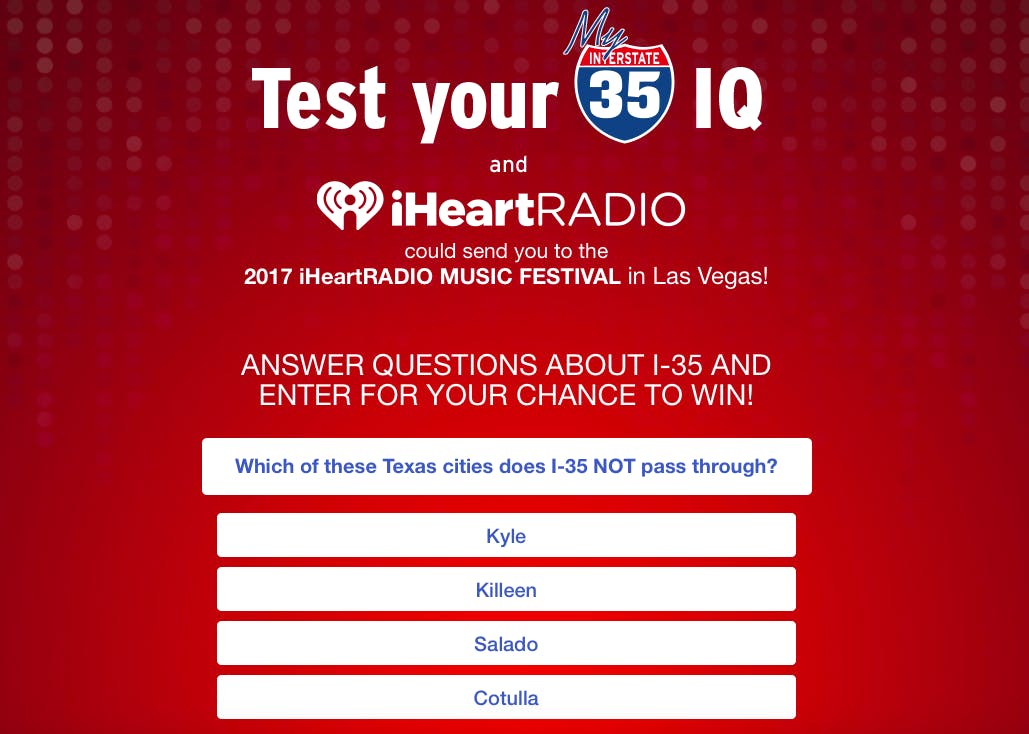 The Texas Department of Transportation has launched an online quiz and sweepstakes to encourage safe driving along Interstate 35 this summer.
The program, available at My35.org, offers a chance to win a trip to the 2017 iHeartRADIO Music Festival in Las Vegas.
"The My35.org quiz challenges drivers to examine their driving behaviors and prompts them to adopt safer driving habits," says TxDOT Traffic Operations Director Michael Chacon. "TxDOT does its best to ensure roads are safe, but ultimately, drivers have the responsibility to be safe and drive smart. Our own actions can save lives."
TxDOT says the My35.org Sweepstakes and quiz "aim to engage drivers along this major corridor… with 40 percent of Texans living within the metropolitan areas along I-35."
The program includes tools used as part of the agency's "Be Safe. Drive Smart." Campaign that aims to encourage drivers to pay attention, obey traffic laws and use caution, particularly in work zones.
"To reach drivers utilizing I-35, the 'Be Safe. Drive Smart.' outreach team will make appearances at three concerts in cities along the thoroughfare this summer, encouraging concert-goers to complete the My35.org quiz to enter the sweepstakes," says TxDOT. "The quiz is designed to inform and encourage better judgment and responsibility behind the wheel. The donated trip to Las Vegas is provided by a sponsorship through iHeartRADIO, and the sweepstakes runs through July 31, 2017. No purchase is necessary."