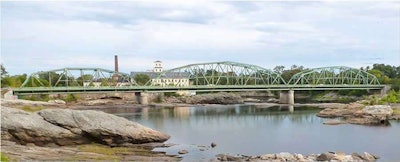 The Maine Department of Transportation (MaineDOT) and the Federal Highway Administration (FHWA) have selected a preferred alternative for replacing the Frank J. Wood Bridge that connects the towns of Brunswick and Topsham.
Built in 1937, the three-span bridge carries Route 201 over the Androscoggin River. It extends 815 feet and is 30 feet wide. MaineDOT performed rehabilitation on the structure in 1985 and in 2006, when the substructure, bridge rail and curbs were updated.
The bridge has a 25-ton limit following after bridge engineers found "rapid deterioration of structural steel which triggered a drop in the ranking of the bridge deck and superstructure from fair condition to poor condition" in recent inspections. "The ongoing and fast deterioration of the structural steel, particularly in the vicinity of floor beam ends and connection plates, requires immediate repairs and the posting is expected to last for several years," the engineers found.
The preferred alternative involves building a new replacement bridge upstream next to the existing bridge.
"The identification of a preferred alternative is a major formal step in the project's ongoing environmental analysis as additional detailed study can now focus on impacts of the preferred option," MainDOT reports. "In the coming months, the entirety of the environmental analysis for the project will be described in an Environmental Assessment in compliance with the National Environmental Policy Act. An additional public meeting will be held prior to the conclusion of the environmental decision process."
The agency held a public meeting/open house on April 5 and closed the public comment period April 19. More details on the project are available here.