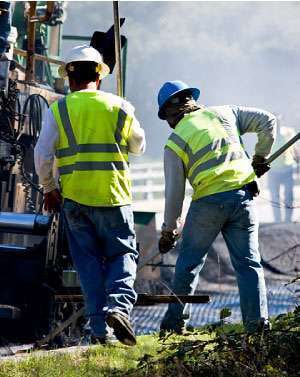 Illinois still does not have a budget established, despite a special legislative session and a budget presented to Gov. Bruce Rauner who immediately vetoed the measure. The Illinois Department of Transportation (IDOT) shut down transportation projects in the state July 1 as a result of the impasse.
The state Senate voted to override the veto and the budget bills have been submitted to the House for an override vote.
The IDOT says up to 20,000 jobs are affected by the project shutdown. The Illinois Road & Transportation Builders Association (IRTBA) says that roughly 30,000 people could be out of work as a result, and the American Road & Transportation Builders Association (ARTBA) estimates the figure could be 43,000 including related jobs.
The shutdown stops work on 900 highway and bridge projects valued at $2.2 billion. ARTBA estimates $127 million in construction work would have been completed on projects this week —outside of the direct costs that contractors will incur to maintain their jobsites. This construction work, the association reports, supports $331 million in purchases through other sectors of the economy, adding $171 million to the state's gross domestic product.
"Shutdown procedures and processes are complete and contractors, engineers, and the motoring public are all at the mercy of the legislature now," says David Rock, president of IHC Construction Company and IRTBA chairman of the board. "I have a project on I-55 and Lake Shore Drive that is only two weeks away from completion that is now shut down. That's wasted time and fuel for commuters and visitors to the city, who will have to sit in traffic longer than they should have had to. And there are 900 more projects like mine shutting down in this state," Rock added.
IDOT has set up an Illinois Budget Status page here to show the latest developments and supply answers to frequently asked questions pertaining to the budget impasse and its affect on the department.