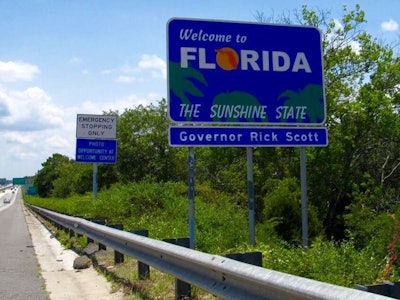 The Florida Department of Transportation (FDOT) completed a $2 million project the week of June 12, to close a gap in wildlife fencing along Interstate 75 where 13 Florida panthers have been hit and killed by vehicles since 2007, Naples Daily News reports. Crews replaced a 4-foot fence with a 10-foot fence along both sides of the 9-mile stretch of I-75 known as Alligator Alley, from the Naples tollbooth to the Faka-Union Canal.
A 2015 report by a transportation ecologist commissioned by the Florida Wildlife Federation brought the problem to the attention of FDOT, and it announced plans for the fencing a few months later.
"We're very pleased FDOT responded so quickly and completely," Nancy Payton, Southwest Florida field representative for the federation, told the news agency.
Biologists conclude that, although Alligator Alley fencing blocks an important north-south travel path for panthers along the highway, stopping roadkill was a higher priority.
"Cats cross it all the time. Every place they can get to for food or mates or just avoiding each other is important to them," Florida Fish and Wildlife Conservation Commission panther biologist Mark Lotz told the news agency, adding that another wildlife project at the eastern end of the new fenced stretch of highway will help panthers cross the Alley.
The new project had crews place 2-foot-wide paths along the banks of the Miller and Faka Union canals where the Alley crosses over them. During a two-month period before the ledges were built, wildlife cameras under the bridges recorded only a raccoon and a rat crossing beneath the bridge. The two months after the ledges were built, cameras captured a Florida panther, coyote, raccoon and opossum passing through.
"It's much improved now," Lotz told the news agency.