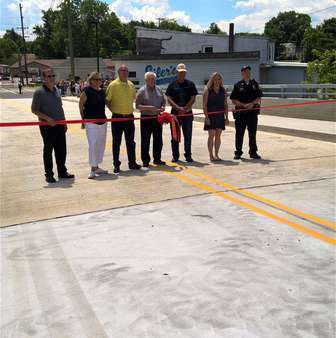 Union City, Arkansas, Police Chief and Village Manager Chris Mathis thanked everybody involved in the North Broadway Street bridge replacement project during a ribbon cutting ceremony marking its opening June 20, WTVB reports.
The bridge, which has been closed since February while the new bridge was built, opened three days earlier than expected.
The new $1.5 million bridge, which was made possible by a state grant with a local 5-percent match, is the fourth bridge to be built on the site. The original bridge was built more than 100 years ago, but was washed away by floods in 1908. The replacement bridge was resurfaced in 1955. The third bridge was dedicated in 1978 and lasted 40 years before it was removed so the new one could be built in its place.
Final touches to the new bridge, which included the painting of lines, were completed on Monday.