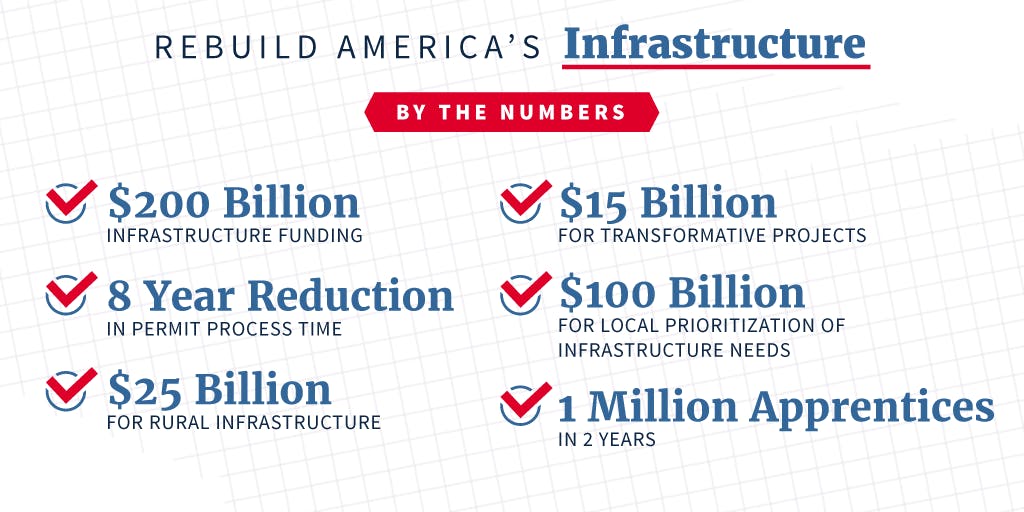 Brief details of President Donald Trump's plan for improving the country's infrastructure were made available June 8, with emphasis on themes that have been touted earlier—reducing project permitting timelines and making use of private investment.
For the permitting process, the plan aims to reduce the average time for a permit approval to drop from 10 years to two years.
As described on whitehouse.gov, "President Trump's regulatory reforms will spur growth and investment. In order to jumpstart investment, the President aims to dramatically reduce permitting time for these infrastructure projects from 10 years to 2 years and to get a 'yes' or 'no' quickly by slashing regulations."
As stated previously, Trump's initiative would try to "unleash" capital from the private sector, which has been referenced as public-private partnerships.
But the outline and short video animation also pointed out a number of objectives within the overall infrastructure improvement strategy.
One that stands out is a goal of implementing a workforce training initiative that focuses on "skill-based apprenticeship education," referencing a goal to have 1 million apprentices active in two years.
Another is to invest $25 billion in rural infrastructure, and $100 billion for local prioritization of infrastructure needs, with a general reference along with the $200 billion that has been cited to be "leveraged" as part of a $1 trillion investment. That point was outlined in Trump's recent budget proposal.
The Trump administration did elaborate on this aspect with these points:
•  Transformative projects to bring the country's infrastructure into the 21st century will be funded through a mixture of loans and grants, such as air traffic control privatization.
•  Rural America will receive grants to rebuild crippled bridges, roads, and waterways.
•  States and cities will receive grants to meet their own infrastructure challenges.
•  Qualified projects of regional and national significance, such as those created under the Transportation Infrastructure Finance and Innovation Act, will receive loans.
A final point is an initiative to "reimagine America's approach to infrastructure with transformative projects" valued at $15 billion, making the point the plan will invest in these projects aimed at changing the countries approach to infrastructure
Below is the video animation accompanying the plan outline.