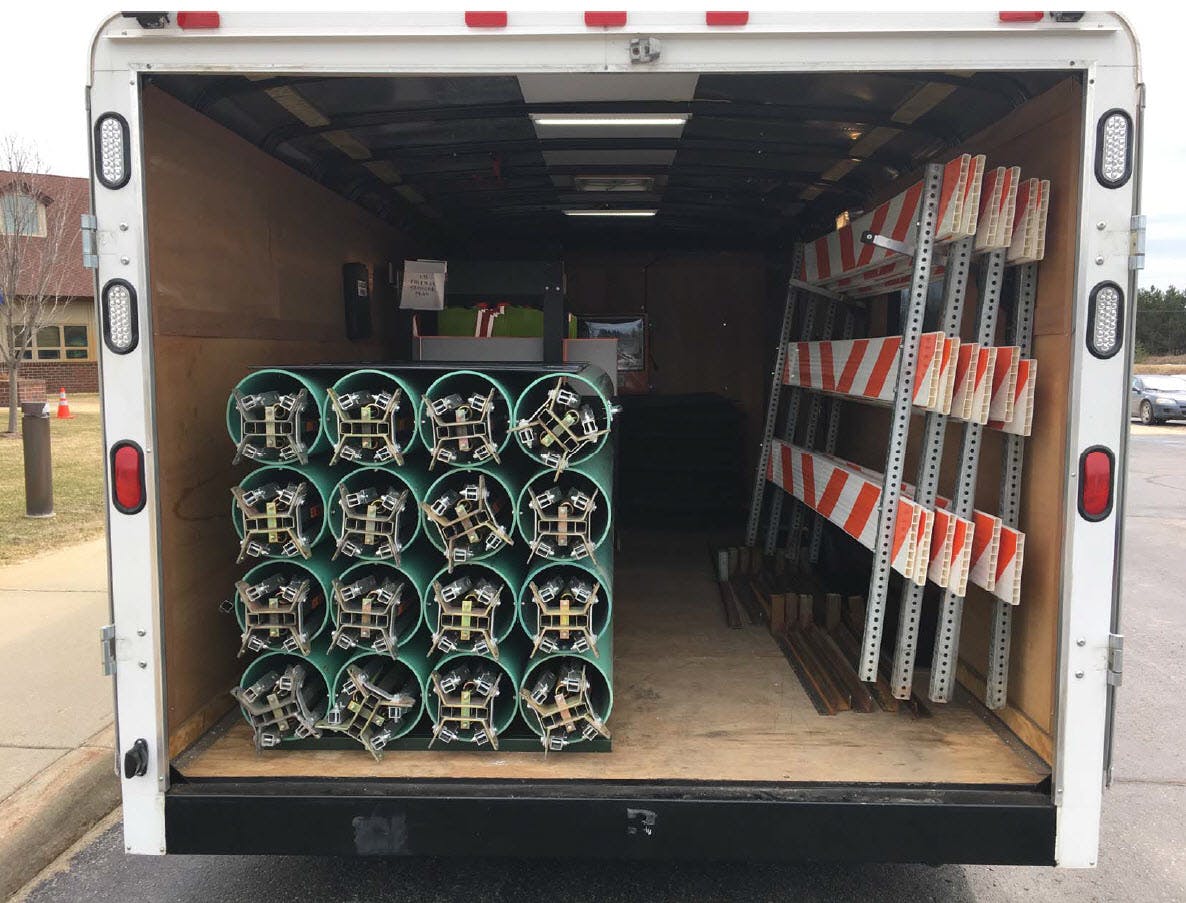 The Michigan Department of Transportation (MDOT) along with local agencies in Otsego County, have launched a new traffic incident management (TIM) trailer aimed at providing tools first responders need to handle the scene of a traffic crash.
"This project was prompted by our collective goal of protecting first responders and controlling traffic at crashes, something multiple agencies saw a need for," says Jason Bodell, Gaylord TSC Traffic and Safety engineer and North Region Traffic Incident Management coordinator, who led the project. "This trailer also will be used to manage traffic during other emergencies and at large events, such as the Wings Over Northern Michigan Airshow."
The Otsego County EMS provided the trailer. MDOT's North Region staff outfitted it and it will be maintained and deployed by the Otsego County Road Commission (OCRC). MDOT also provided the trailer markings noting the partnership that also includes Michigan State Police, the Otsego County Sheriff's Department, the City of Gaylord and local fire departments. MDOT also supplied the majority of the equipment.
The trailer features a rooftop illuminated arrow board with a power supply, 42-inch cones, a variety of signs with stands, safety vests, a detour map for Otsego County and a copy of the I-75 freeway closure plan.
"The benefits of the TIM trailer will be how easy everything is at our fingertips, along with the detour maps laid out at a joint meeting of all our agencies," says Tim Johnson, state foreman for the OCRC. "Another benefit is the large high-visibility signs that will help motorists see where they need to turn to continue on their route."
Gaylord Police Chief Brett McVannel says the TIM trailer is beneficial tool in northern Michigan where there aren't as much public service personnel to "shut roads down, reroute traffic, and protect the scene for evidence, as well as police the crash all at the same time."
"The trailer will allow our officers to be able to concentrate on the incident they are policing, while the trailer has the tools to ensure the scene is safe, traffic is rerouted, and that the crash has as little of impact on anyone who is not involved," McVannel adds.