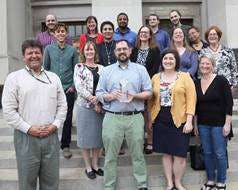 The Richmond Technology Council (RVATech) has awarded the Virginia Department of Transportation's (VDOT) SMART SCALE web tool with an award for Innovation in Development in the public sector category.
The SMART SCALE system prioritizes transportation projects based on need using a data-driven analysis. It stands for System for the Management and Allocation of Resources for Transportation. VDOT says evaluations look at improvements to safety, congestion reduction, accessibility, land use, economic development and the environment.
VDOT says the SMART Portal collected and managed information for more than 900 applications this year.
RVATech presents the award to an organization that demonstrates "exceptional technological development" that benefits the public or the organization itself.
"VDOT is continuously ahead of the curve in developing tools that help make Virginia a leader in transportation," says VDOT Commissioner Charles Kilpatrick. "We recognize the importance of innovation and the role it plays in advancing the work we do."