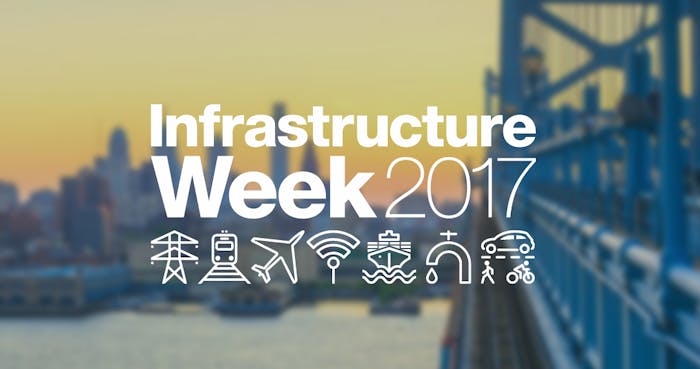 The 2017 Infrastructure Week kicked off May 15 in Washington, D.C., with an event featuring business and association leaders as well as Transportation Secretary Elaine Chao discussing the new technologies, projects and infrastructure in the 21st century.
Chao gave the keynote address at the launch and focused on the successful reopening of the I-85 bridges near Atlanta after the collapsed from fire damage March 31. The bridges opened to traffic in 49 days.
"A team from the U.S. Department of Transportation was on the ground almost immediately after the incident," Chao said. "Within 12 hours, the department had delivered $10 million in emergency relief funds to help replace the bridge. A supply chain located within two hours of the site was quickly identified. And federal regulatory requirements were expedited to ensure timely execution of contracts and funding. Of course, replacing a structure is not the same as starting a project from scratch. I-85 was an emergency situation. And it's not possible to slash the time for federal requirements on every project from years to months. But there is much room for improvement. I-85 is an example of what can be accomplished with federal, state and local governments working together."
After Chao's remarks was a presentation of the American Society of Civil Engineers 2017 Infrastructure Report Card issued earlier this year, which gave the nation's roads an overall D grade, and U.S. bridges an overall C+ grade. This was followed by a panel discussion on innovative projects, tech and vision for infrastructure in the future.
The launch event was closed out by another panel discussion that reviewed perspectives on funding, finance and planning next steps for advancing the nation's infrastructure.
Today, the American Road & Transportation Builders Association (ARTBA) is holding two meetings as part of their involvement in Infrastructure Week: the 2017 Federal Issues Program and Transportation Construction Coalition Fly-in, and the Industry Leader Development Program.
Also planned today is the Coalition for America's Gateways and Trade Corridors Annual Meeting, The Future of Smart Cities discussion hosted by Bloomberg and Siemens, along with several other discussion and planning events.
For other Infrastructure Week events, visit the Calendar page at infrastructureweek.org/calendar/.