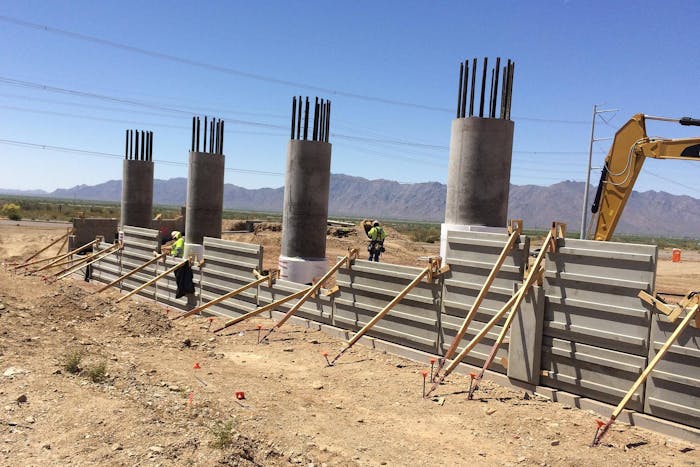 The Arizona Department of Transportation (ADOT) and Connect 202 Partners are using mechanically stabilized earth (MSE) walls in the construction of the Loop 202 South Mountain Freeway interchange with 17th Avenue. The project is expected to be finished in 2019.
MSE's are assembled like building blocks as large as 5-by-10 feet that incorporate the walls with reinforcing straps in building retaining walls under bridges. ADOT has used these walls in projects since the 1970s.
The department reports roughly 600,000 square feet of MSE walls will be used in the interchange project.
"MSE walls are an essential element of highway design, as they can be constructed efficiently in confined spaces with minimal use of heavy equipment," says Julie Gadsby, an ADOT assistant district engineer on the South Mountain Freeway team.
Connect 202 Partners make the panels off-site and assembly them "much like a jigsaw puzzle" once at the construction area. They feature "aesthetic patterns" as part of an overall design, with images inspired by desert plants such as the native cholla and ocotillo cactuses in the Ahwatukee Foothills area, ADOT reports.
Construction on the MSE walls for the interchange is expected by be completed in May, with similar construction coming up at the 24th and 40th Street bridges.