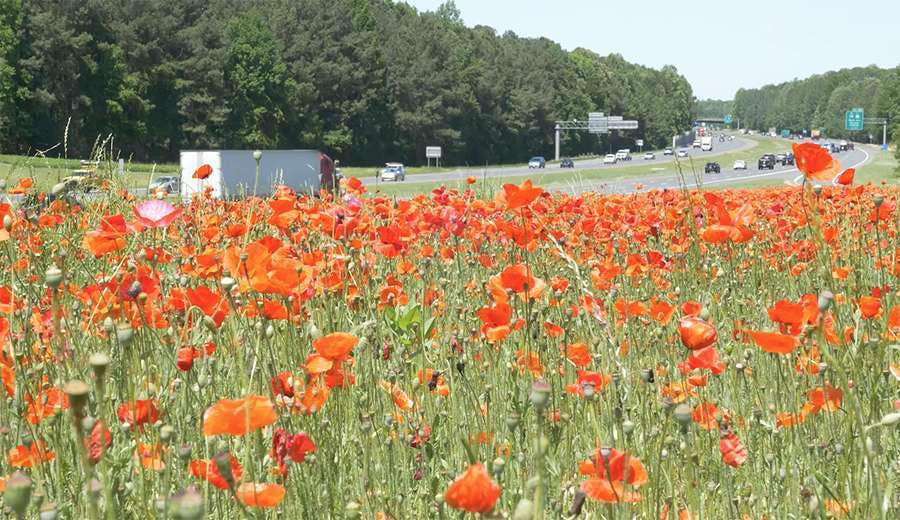 The North Carolina Department of Transportation (NCDOT) and Department of Natural Cultural Resources collaborated on planting red poppies alongside the state's highways as a means of commemorating the 100th anniversary of the U.S. entering World War I and as a means of honoring fallen solders from the war.
"We are so grateful to (NCDOT) Secretary (Jim) Trogdon and the staff at NCDOT for partnering with us on this beautiful and visual remembrance of the North Carolinians who gave the ultimate sacrifice in serving their country 100 years ago," says Susi H. Hamilton, secretary of the Department of Natural and Cultural Resources. "These flowers are a wonderful way to honor the memory of our World War I veterans, and I hope that people who see them will be inspired to reflect on those who died in service to our country."
The flowers are part of NCDOT's Wildflower Program, which marks 32 years in 2017. The agency says wildflower beds, which are considered an integral part of highway beautification, are installed and maintained by Roadside Environmental personnel in its 14 highway divisions.
The red poppy has been used to commemorate fallen World War I soldiers since the end of the war and is the official emblem of remembrance of the American Legion. "It was inspired by the opening lines of Canadian Army officer John McCrae's poem 'In Flanders Field,' which was written during World War I after McCrae noticed the poppies blooming around the mass graves of soldiers on the battlefields," NCDOT says.
"We are honored to pay tribute to the men and women who served our nation in World War I through our department's most popular program," Trogdon says. "Thank you to the many veterans who sacrificed on our behalf a century ago and to Secretary Hamilton and the N.C. Department of Natural and Cultural Resources for helping us make this beautiful memorial a reality."