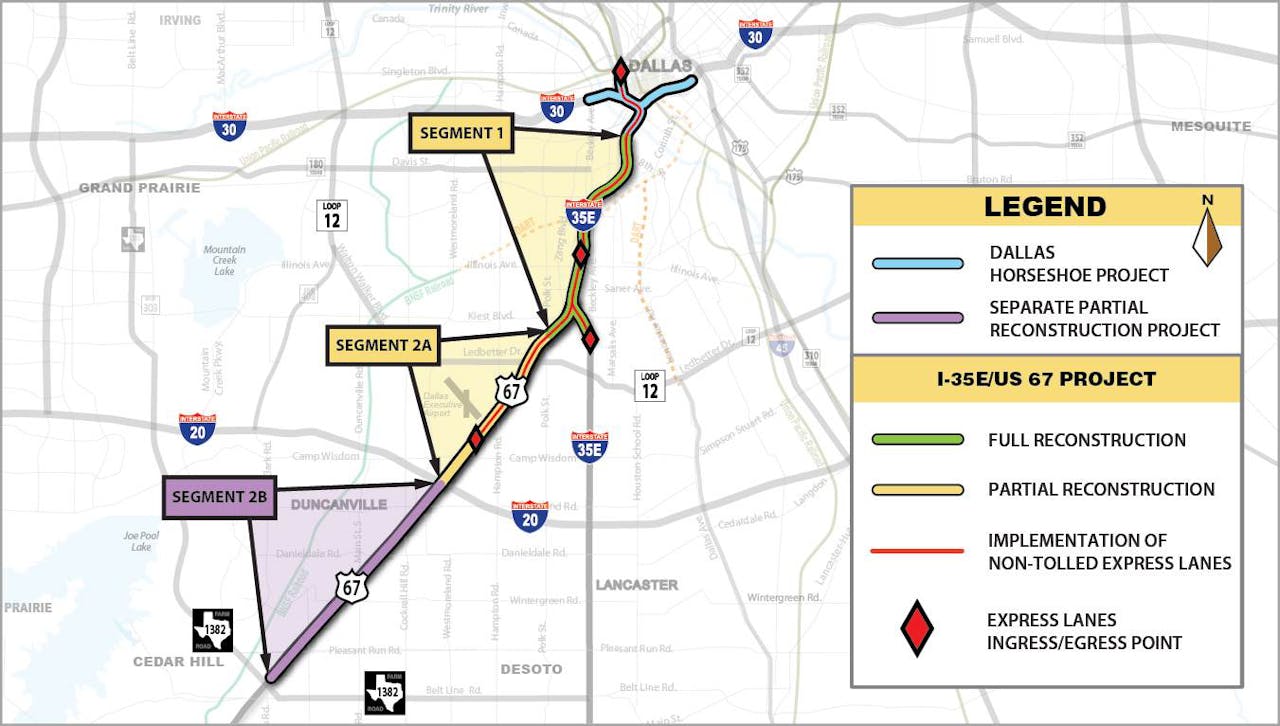 The Texas Department of Transportation (TxDOT) has named Pegasus Link Constructors as the design-build contractor for the $565 million Southern Gateway project that will widen and reconstruct 11 miles of Interstate 35 south of downtown Dallas.
Construction is set to begin as early as the end of this year and is expected to be complete in 2021. The Texas A&M Transportation Institute says the project area is the 17th most congested roadway segment in the state.
Pegasus Link is a joint venture of Fluor Enterprises and Balfour Beatty Infrastructure. "Our team brings an integrated solutions approach to designing and building complex mega-projects and our long-standing relationship with Balfour Beatty solidifies our ability to deliver complex projects for Texas," says Hans Dekker, president of Fluor's infrastructure business line.
TxDOT says a big part of the funding for the project is made available through the Texas Clear Lanes initiative. The project also includes $264 million in congestion relief funds.
Two reversible, non-toll express lanes will also be added to the Southern Gateway project, along with a reconstructed I-35 east/U.S. 67 interchange and a third lane in each direction to U.S. 67 from I-20 to I-35 east.
"The Southern Gateway project shows what can be accomplished when TxDOT and its local, regional and legislative partners work together," says Victor Vandergriff, Texas Transportation Commission member. "The input we received has helped bring together a mixture of safety enhancements, mobility improvements and congestion relief in one project for southern Dallas County."
The project also calls for safety improvements to include rebuilding and smoothing out the Zang Boulevard curve and shoulders and other improvements added to entrance and exit ramps. Additional pedestrian and bicycle paths have been proposed as features along frontage roads.
"Identifying the right project to meet the growing transportation needs of local residents has been a priority for the Dallas District," says Kelly Selman, district engineer for TxDOT/s Dallas District. "The district works hard to address local needs and concerns, and this project brings the right mix of improvements to address those concerns."