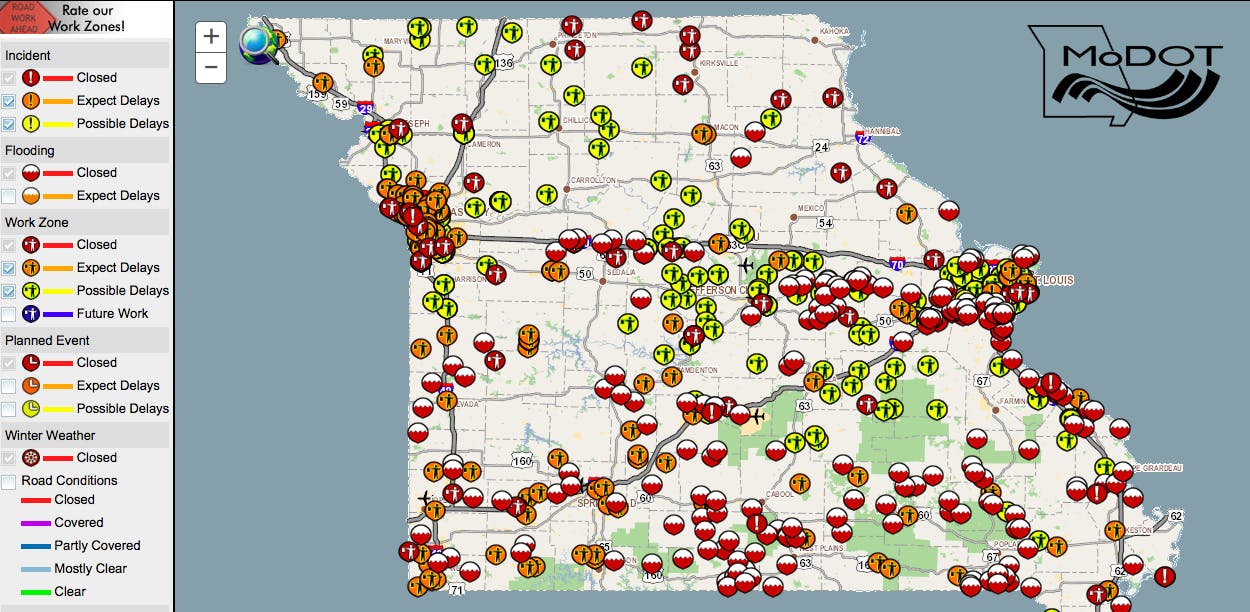 The Missouri Department of Transportation (MoDOT) reports more than 230 roads across the state are still closed due to flooding and damages from recent heavy rains and storms.
Both northbound and southbound lanes of Interstate 55 between St. Louis and Jefferson counties were closed late yesterday, and I-44 was closed in St. Louis for a stretch of at least 20 miles.
MoDOT reports that while I-44 is closed from I-270 to Route 100 in St. Louis and Franklin counties remains closed, the interstate has reopened at Hazelgreen in Laclede County.
As a detour, the agency is recommending motorists use I-70 between St. Louis and Kansas City and then using I-435 to I-49 to Joplin to then reconnect to I-44. However, there are reports that this route is taking up to two hours. MoDOT has suspended all work zones on this route to help alleviate congestion.
For the I-55 closure, the department recommends I-57 at Sikeston across the Mississippi River into Illinois as a detour. MoDOT reports the Route 51 Mississippi River Bridge, also known as the Chester Bridge, in Perry County could close by noon May 4.
Other major routes that have closed include:
I-44 in St. Louis/Franklin counties between I-270 and Route 100
Route 141 at I-44 in St. Louis County
Route 30/Gravois in St. Louis County at Meramec River
Route 21/Tesson Ferry in St. Louis County at Meramec River and Route 141 at Route 21.
Route 109 in Eureka in St. Louis County
Route 63 near Vienna, between Rolla and Jefferson City
Route 50 at Mount Sterling in Gasconade County
MoDOT says it does not expect flood waters to recede enough to open most of the major routes until later next week. The agency will need time to inspect bridges and roadways prior to reopening the routes. Road closure information is available at traveler.modot.org/map/.