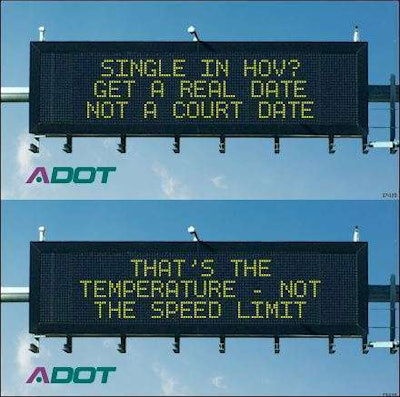 The Arizona Department of Transportation (ADOT) selected two winners for its Safety Message Contest, with the two messages displayed at various times April 21 through April 24.
One message "That's the temperature – not the speed limit." was displayed on overhead signs April 21-23 across the state. The other, "Single in HOV? Get a real date not a court date." was also shown April 21-23, but appeared again on Phoenix-area signs April 24.
ADOT reports it received 6,700 submissions for the contest, and narrowed the field down to 20 finalists before selecting the final two.
"We want to thank everyone who participated in the contest, sending in entries and voting," says Kevin Biesty, ADOT deputy director for policy. "Our hope in putting unconventional safety messages on the overhead signs is that drivers will engage with the message and driver behavior will begin to change, making roads safer for everyone."
Phoenix resident Ashley Servatius submitted the "temperature" message.
"A friend and I were driving and she was alarmed because she thought I was driving 101 miles per hour," Servatius says. "Little did she know, that was my temperature gauge and not my speedometer. It was a good laugh."
Jim Atkinson, also from Phoenix, submitted the "HOV" message, citing HOV-lane violators as a pet peeve for him while driving. "Plus, when you're cruising down the road and other drivers see you," he said, "you just look bad."